NUKE / NUKEX
Description
NUKE is a compositor utilizing a flexible node-based, native multichannel workflow with an integrated 3D compositing environment to create high-quality digital content.
NUKE uses all the industry standard keyers (Ultimatte, Primatte, Keylight), rotoscope and vector paint tools, multiple color correction approaches, Gaussian and vector blur, defocus, dilate/erode, grid and spline warping, multiple compositing merge methods, powerful expression language, a vector-based text generator, GPU accelerated 3D LUTs, an animation curve editor, dope sheet and more.
NUKEX includes all the features of NUKE plus
Integrated 3D camera tracking
3D particle system
Planar tracking
Wavelet based denoise
Image-based modelling tools
Dense point cloud generator
and FURNACECORE
Kronos - high quality time warping based on optical flow technologies
MatchGrade - copy the grade from one sequence to another
MotionBlur - add realistic blur based on the motion in the scene
DeNoise - removes or reduces all kinds of noise from your footage
DeGrain - optimized removal of film grain from a plate
ReGrain - add grain to your clean plates or graphics from stock, or sample your own
DeFlicker2 - removes in-scene flicker from light sources of all kinds
Steadiness - smooth a shots camera move, or lock off a shot completely
RigRemoval - remove unwanted foreground objects from a shot
Align - align similar shots automatically
WireRemoval - quickly clean up wires
VectorGenerator - generates motion vectors for use in other nodes
Powerful node based compositing
Our industry leading NUKE range offers cutting-edge toolkits covering VFX, editorial and finishing across solutions that deliver unparalleled speed, functionality and collaboration possibilities.
Whether you're a single shot compositor or working across projects end to end, you can find all the tools you need to get the job done fast, without quality compromise, in NUKE STUDIO, NUKEX or NUKE.


| | |
| --- | --- |
| Power and performanceBuilt to meet the needs of modern production work, the NUKE range offers unparalleled levels of power and confidence whether you're a team with a deadline or working solo with a client. | Collaborative workflowEfficient, collaborative workflows lie at the heart of the NUKE range. Whether you're working in a group of artists or running an effects department, NUKE makes team-work seamless. |
| Compositing and much moreAll the tools you need to get the job done, no matter how you're working. From editorial to finishing and tracking to model building, the NUKE range can scale to suit your needs. | Highest quality resultsIndustry-leading toolsets within the NUKE range make producing pixel perfect, film-grade results, without the daily grind, easier than ever. |
| Speed and efficiencyWork fast and interactively with NUKE's cutting-edge toolkits, GPU acceleration and fluid workflows. Everything you need to get the job done fast is built in and ready to go. | Open and customizableWith major operating system compatibility, low hardware requirements and Python API, NUKE integrates seamlessly into your workflow. |
Which NUKE is right for me?
An award-winning compositor, NUKE provides state-of-the-art tools designed to streamline day-to-day workflow and ensure highest quality results fast. Get the visual result you want while retaining the power and flexibility to solve any production challenge.
NUKEX combines the core functionality of NUKE with an 'out of the box' toolkit of exclusive functionality, removing the need to roundtrip to other applications. NUKEX has it all built right in including a camera tracker, model builder, particle system and much more.
NUKE STUDIO is a powerful node-based VFX, editorial and finishing studio designed to empower creative individuals working independently as well as collaborative teams working on quick-turnaround projects in a way that's previously never been possible.
---
New Features in NUKE, NUKEX and NUKE STUDIO 10


Accelerated Roto Paint performance

Now you can enjoy greatly improved interactivity and stability when working with large numbers of paint strokes in a single RotoPaint node. With a number of bottlenecks identified and addressed, you'll be able to do more painting or cloning in a single node where previously you'd need to split it over multiple nodes, with all the inherent workflow complications that entailed.

Vector Blur enhancements

NUKE's VectorBlur node has been revamped with a more intuitive UI, accelerated performance and higher quality motion blur results, including areas of occlusion. The new version makes better use of the available processing power in machines with many CPU cores and offers the option for GPU acceleration.

Localization system improvements

We've unified the way NUKE and NUKE STUDIO perform localization, taking the best parts of each system to produce a faster, easier-to-use solution that features a more informative and responsive UI, together with greater stability.

OCIO Integration

OpenColorIO has been integrated into NUKE's root LUT management, so artists can use the same process for accessing OCIO LUTs as any other type, eliminating the need to add OCIOColorspace nodes.

NVIDIA multi-GPU support

Take better advantage of your graphics hardware investment to accelerate your workflows, with new support for harnessing the power of dual identical NVIDIA GPUs for all existing and future GPU-accelerated nodes.

BlinkScript GLSL GPU path

The BlinkScript node can now use a GLSL GPU path, allowing you to create custom GPU-enabled Soft Effects on the NUKE STUDIO timeline and in the node graph.

 

VFX Reference Platform 2015 updates

Updates to the VFX Reference Platform libraries include Pyside to version 1.2.2; EXR to version 2.2, featuring DWAA/DWAB compression; and GCC to version 4.8.3.

 

Ray trace renderer - BETA

A new RayRender node adds a native ray trace rendering engine to NUKE. As an addition to the existing ScanlineRender node workflow, the Ray Renderer delivers high-quality motion blur and shadows; point light shadow support; faster nonlinear spherical projection; and extended support for reflections and ambient occlusion.
---
New Features in NUKEX and NUKE STUDIO 10


Smart Vector toolset
The Smart Vector toolset delivers a powerful new workflow for adding textures or paint to image sequences that contain complex motion or subtle detail. With it, you can generate high-quality motion vectors and use them to automatically push or warp an input image sequence across a range of frames. With the Smart Vector toolset, you can replace tedious and error-prone manual clean-up, replacement and augmentation tasks with a simple and accurate automated process.
NUKE Assist updates
The NUKE Assist licenses included with NUKEX and NUKE STUDIO now include Blur and Vector Distort nodes, extending the range of everyday paint, roto and tracking tasks for which they can be used.



---
New Features in NUKE STUDIO 10


Timeline performance

NUKE STUDIO now offers a faster and more satisfying timeline editing and conform experience, especially when working with longer timelines or timelines with many items. Key improvements include better responsiveness when interacting with the timeline user interface along with faster and more stable playback on both short and long-form projects.

Chroma Keyer Soft Effect

NUKE STUDIO's new Chroma Keyer Soft Effect delivers real-time keying directly in the timeline. When used in conjunction with the Overlay Track, Chroma Keyer lets you see your keyed element on top of background elements, enabling you to make adjustments in context. The corresponding ChromaKeyer compositing node is available in all NUKE products.

Transcode performance

Users will experience faster export speed due to accelerated file transcoding when converting NUKE's native DPX format to Apple QuickTime ProRes 4444 and Apple QuickTime ProRes 422.

Blink Script Soft Effect

The BlinkScript node is now available as a Soft Effect on the NUKE STUDIO timeline, allowing you to create custom GPU-enabled Soft Effects on the timeline and in the node graph.

Color Correct Soft Effect

A new Color Correct Soft Effect brings the functionality of the frequently used ColorCorrect node to the timeline, letting you make quick adjustments to contrast, gamma, gain, and offset without jumping to the node graph.


Audio handling

You can now scrub or step through audio samples in order to easily match specific points in a clip or sequence. In addition, there's a new option to view a half waveform for better use of screen real estate.
---
New Features in NUKE, NUKEX and NUKE STUDIO 9

Everything's got a lot faster
Significant engineering effort has been dedicated to making performance boosts across the board. Not only have we greatly increased overall performance in NUKE 9 compared to NUKE 8, but we've also made huge leaps forward in performance of NUKE's EXR reader, Deep EXR reader, and Scanline renderer to name a few.
Native Flipbooking
We've used new NUKE STUDIO technology to create a native Flipbook panel inside of NUKE and NUKEX, bringing integrated and real-time player capabilities to both applications and removing the need to roundtrip to other flipbooking software.
New image formats supported
NUKE 9 adds support for MXF files, including read from MXF for DNxHD, Sony RAW (F55 and F65), XAVC and others.  We've also added GPU debayering for ARRI and RED raw files.
Denoise comes to NUKE
The release of NUKE 9 sees the power of the previously NUKEX-exclusive Denoise tool come to every product in the NUKE range.
OFlow gets GPU accelerated
NUKE's OFlow tool has been further integrated and enhanced to give you new control over retime curves in the source time range, combining to give you concise, intuitive control over your speed ramps. And it's been GPU accelerated.
Performance profiling for all
NUKE's performance profiling has been updated to give more accurate and detailed information on scripts, and now runs across three platforms.  Color coding has been added for better visibility on individual scripts, Python calls now provide Python access to timing information for individual nodes and you can now run NUKE from the command line and get the full performance profile for a render in XML format.
Mip-map filtering for the Scanline Render
NUKE 9's Scanline Render will improve your rendering speed, particularly when sampling from large textures, with the addition of new mip-map texture filters, including options for Nearest, Bilinear, Trilinear and Anisotropic.
Drop shadow added to the Text node
NUKE's Text node has been improved by the addition of a new shadows tab within the node, making it fast and simple to add drop shadows and outlines to your text.
Camera and Axis nodes get an update
NUKE 9 adds a Look pipe to the Camera and Axis nodes which mimics the behaviour of the Transform Geo nodes 'look' input functionality.
Curve Editing with less clicks
The improved Curve Editor in NUKE 9 speeds up your workflow by showing curves for both Comp nodes and timeline Soft Effects. There's now a single adjustment panel which has both x and y number fields which can be jumped between using the tab key.
Backdrop node update
NUKE's Backdrop nodes have been improved to provide a z order option in the control panel. You can specify a particular z level at which the backdrop will appear in the node graph.
---
New Features exclusive to NUKEX and NUKE STUDIO 9
KRONOS 2
The new motion estimation algorithm in KRONOS 2 improves the quality of your retimes, giving you a smoother warp with less artifacts and improved image reconstruction with less "pulsing" between sharp and blurry results. KRONOS 2 also comes with new resampling methods (Lanczos), new control over retime curves, improved range integration as well as Blink GPU acceleration.
Vector Generator 2
Based on KRONOS 2, the new Vector Generator comes with improved quality vectors based on the new motion estimation algorithm. It also provides Blink GPU acceleration.
Motion Blur 2
Based on KRONOS 2, the new motion estimation algorithm in Motion Blur 2 provides you with faster and more accurate results. Motion Blur 2 also provides Blink GPU acceleration.
Planar Tracker 2
Planar Tracker 2 has an added new region tracking algorithm which works with featureless areas of footage. Planar Tracker and Roto now appear as a single, integrated node with a new pattern-matching algorithm with a luminance shift option for shots where luminance alters within the tracking region.
Particles with more possibilities
An improved Particle Bounce node creates a whole new range of possibilities for particles by adding a new 'geometry' input which allows you to connect any native NUKE geometry or read-in geometry, including OBJ, Alembic, FBX, for particles to bounce off.
---
Previously Released Features
In-viewer text compose, edit and animate
The new Text node in NUKE 8.0 allows artists to enter text directly into the viewer and edit or animate on a per-character basis.
A new virtual slider knob gives artists easy and detailed control over adjustments with a simple click and drag solution in the number field.
Powerful timeline viewing
NUKE 8.0's Dope Sheet has been greatly enhanced and allows artists to see and move keys around in time with the results and each property of the node accurately displayed in context inside of the dope sheet.
Artist friendly colour controls
The intuitive in-panel colour wheel in NUKE 8.0 updates the existing colour knobs with a new drop down panel making it easier and faster to select and change a colour.
A new Pixel Analyser in NUKE 8.0 gives artists easy access to a wide variety of image colour values through intuitive in-viewer scrubbing or region box selection tools.
Scopes are a new addition to NUKE 8.0 designed to give artists access to detailed levels of colour data on images displayed in the viewer.
Enhanced viewer rendering results NUKE 8.0's new Full Frame viewer mode ensures the full frame of the viewer is always processed when rendering, regardless of zoom level, and allows artists to playback and zoom in/out without the viewer recalculating any newly exposed scanlines.
Intelligent in-application help
NUKE 8.0 comes pre-packed with a new intelligent in-context help system to complement the existing node-specific in-application tooltips. This easy to use interactive online HTML help loads your default browser directly from within NUKE and includes all information currently found in NUKE's PDF Getting Started Guide, User Guide and Reference Guide, as well as video tutorials and example .nk scripts that open in your existing session.
Advanced 3D controls
The New Viewer Capture functionality in NUKE 8.0 lets artists create a flipbook of the images from the viewer to quickly and easily check shots, for example the animation of a 3D scene, in real-time without having to do a full scanline render.
A new Edit Geo node in NUKE 8.0 allows artists to modify the vertices or faces of native NUKE geometry, or any geometry read in through a Read Geo node, including: Alembic, OBJ, FBX to give greater control over 3D elements.
The Particle Cache node in NUKE 8.0 speeds up rendering times by letting artist save a particle system's simulation to file and then read it back in different sessions or on different machines at will, without the need to recalculate.
NUKE 8.0's new Wireframe Shader node lets artists apply wireframes to a variety of different geometry types, giving them access to a range of additional effects and enhanced control over projection alignment.
NUKE 8.0 also includes new Wireframe Render option on the render mode knob of all 3D geometry nodes that gives added choice to artists when rendering objects or full scenes.
Advancing Deep Compositing
NUKE 8.0 adds Deep output to the Scanline renderer enabling artists to output Deep images from nukes native 3D environment and combine these with existing deep images to enhance the deep compositing workflow.
Speed and Performance Enhancements
OpenEXR 2.0 adds multi-part image read and write support to NUKE 8.0. With these capabilities artists can store their views and layers in separate subfiles to significantly increase speed when only working on a few layers at a time.
NUKE 8.0 also supports the recently released Alembic 1.5 which brings with it improvements in write, read, and especially multi-threaded read performance.
NUKEX Exclusive Features
The new Match Grade node in NUKE 8.0 automatically modifies the colour histogram of an image to match a reference and makes grading simple and fast.
Environments made easy
NUKE's Camera Tracker has been completely remodelled to include the projection solver and a new Camera Calibrator. These updates let artists track and solve cameras from reference stills and can be used to assist with set or object modelling.
NUKE's Model Builder has been updated to give artists the power to create UV's within NUKE useful when adding new 3D elements to existing clips.
Plugged further into the Pipeline
New Apply Material Filter options help to streamline 3D texture application on objects inside of NUKE. Artists can now choose to add textures to subsets of a model without needing to separate geometry into unique nodes.
For developers and pipeline TD's NUKE 8.0 adds: A new Planar Rendering Framework, Python Import NUKE functionality and a powerful new Blink Script node.
Unrivalled speed and power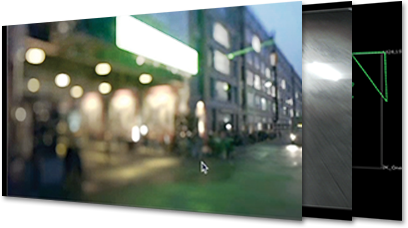 NUKE 7.0 features the highly sought-after addition of RAM cache, which has been introduced to give artists real-time playback. In addition this major release introduces a variety of GPU accelerated nodes for NUKEX including MotionBlur, Kronos,Denoise, VectorGenerator, Convolve and ZDefocus.
This is a fundamental change that will allow artists to utilise the power of their GPUs to speed up interactive image processing times. When the GPU is available NUKEX will now take full advantage of that power. If it's unavailable, the software simply reverts back to the CPU without any need to adjust settings.
Day to day compositing the way you want it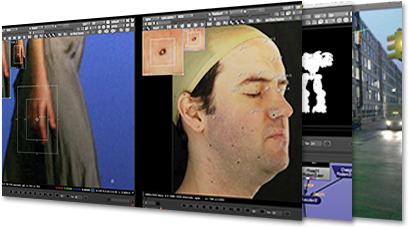 The roto tools in NUKE have been entirely redefined to enhance performance and improve stereo support, giving artists more control than ever before.
NUKE 7.0 includes Primatte 5 and a brand new 2D tracker with big updates to the workflow and speed. Support for new camera raw formats has been added including ARRIRAW and the latest R3D SDK.
The SplineWarp node and DopeSheet have also benefited from major improvements.
Blurring the line between 2D and 3D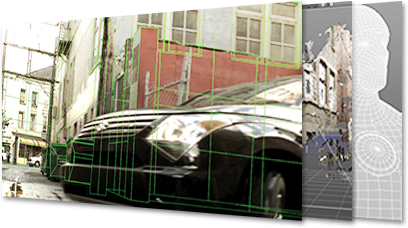 NUKE 7.0 also brings with it a number of options that allow artists to do more within NUKE. Artists are now able to relight renders in the comp environment using the ReLight node and even model usingNUKEX's new ModelBuilder.
Both of these additions reduce the need to roundtrip to another tool or hand work off to other departments.
The Deep compositing workflow also sees the addition of the industry standard OpenEXR 2.0 Deep file format, and NUKE's 3D system welcomes the addition of the Alembic file format.
Features in Detail
New RAM playback cache functionality - Giving artists real-time playback capability by retaining recently used frames in memory without relying on the OS disk buffering system.
Improved Roto performance - Giving artists more control than ever before, NUKE's roto tools have been completely overhauled, drastically improving interaction speed as well as giving real-time playback of roto overlays and improved stereo support.
Improved 2D Tracker - With major improvements to workflow, speed and accuracy, NUKE's 2D Tracker now lets artists track and correct difficult objects with ease, giving finer control over core tracking functionality.
Improved SplineWarp tool - Giving greater control, NUKE's improved SplineWarp tool lets artists create source and destination splines independently and set separate warp values per layer or spline pair.
Multiple 3D improvements - Giving artists greater freedom in 3D, improvements include: 3D scale manipulator, 3D alpha shadows, create camera option, updated cast and receive shadows functionality and displacement tessellation settings, as well as new stochastic samples control for motion blur.
Primatte 5 - The latest upgrade to Primatte 5 brings with it numerous improvements and new features, including: Improved auto compute, new smart background color select, new hybrid render and adjust lighting features and multiple new output modes.
Upgraded PositionToPoints tool - Create point clouds quickly and easily with newly improved PositionToPoints tool that lets artists alter point clouds with geometry modifiers and choose the channels from one input rather than having to pipe in two.
Upgraded Relight tool - Now a fully supported node giving artists the ability relight renders in the comp environment, removing the need to roundtrip to other packages for quick fixes and adjustments
Improved DopeSheet and new TimeClip node - Gives artists powerful new ways to visually move elements around the timeline.
New Bookmark feature - Gives artists the ability to bookmark nodes or backdrops in the node graph, and jump between them using the assigned hotkeys or the bookmarks search box.
Deep data & Alembic support - Push the boundaries of Deep compositing with new OpenEXR 2.0 Deep data read and write capability, as well as read and write geometry and cameras to and from Sony Picture Imageworks' Alembic file format.
FBX 2012 Support - NUKE now supports FBX 2012 7.2, as well as being back-compatible with all previous versions.
New Format Support - new camera format support for ARRIRAW and latest update for R3D SDK.
New Features exclusively for NUKEX
NUKEX features the core NUKE toolset complimented with exclusive cutting edge tools to ease day to day compositing tasks without having to leave the package.
Multiple GPU Accelerated Nodes - This fundamental upgrade allows artists to utilise the power of their GPU's to speed up interactive processing when dealing with: MotionBlur, Kronos, Denoise, VectorGenerator, Convolve and ZDefocus. If the GPU is unavailable NUKE will simply revert back to the CPU without needing to adjust setting
New ZDefocus tool - A significant upgrade to the ZBlur tool which now includes GPU acceleration, as well as an improved algorithm and much more.
Particle improvements - Giving greater speed than ever before, NUKE's particles can now inherit velocity from emitter geometry and emit from the bounding box volume of an object.
ModelBuilder - Create 3D models of sets and props quickly and easily, without having to roundtrip to another tool with NUKE's new ModelBuilder.
Improved DepthGenerator & PointCloud Generator - Able to calculate cleaner, more accurate depth passes and point clouds, both tools offer improved workflow, accuracy and new output options. 
 Compare Nuke & NukeX Features
3D Particles (X)
NUKEX 6.3's true 3D particle system integrates seamlessly with NUKE's 3D workspace. Artists can create a range of particle effects quickly and effectively within the composite including breaking windows, dust, fire and rain. No need to go back and forth to an external 3D rendering package.
Planar Tracker (X)
NUKEX 6.3 brings Planar Tracking to NUKE dramatically speeding up common compositing tasks such as sign replacement, element inserts and clean plate generation. Any new element to be matched to a planar surface such as the face of a building, floor, car side, etc. can easily be tracked, placed and animated.
Denoise (X)
The Foundry's research team won a Sci-Tech® Award for their original FURNACE algorithms in 2007. They have now written a completely new Wavelet-based Denoise algorithm resulting in cleaner and more visually pleasing results with less artefacts which is already being well received.
Spline and Grid Warping
We have completely rewritten the Spline and Grid Warping tools in NUKE to make them more intuitive and accurate to use. The point and spline UI is shared with RotoPaint allowing the exchange of curves, attachment of spline and grid points to trackers, editing of animation in the curve editor / dope sheet and Python scripting support.
Performance
The Local Read Cache can automatically create local copies of image sequences located on a network to reduce network traffic, improve user experience and artist interactivity. The aggressive caching option takes advantage of available RAM to speed up compositing, avoiding re-rendering when changing frames or moving from script editing to playback.
Audio Scratch Track
The Audio Scratch Track works with NUKE's curve editor, allowing artists to match their VFX to audio cues and generate animation curves from audio waveforms.
Displacement Shader
This surface shader applies dynamic tessellation and displacement of 3D geometry at render time, resulting in quicker and higher quality 2d-3d stereoscopic conversion. This also has a similar effect on other 3D VFX compositing tasks such as virtual environment creation.
3D Projection
Project3D can now detect occlusions to stop projections passing through faces and objects. It is now quick and easy to set up high quality projections without unwanted artifacts.
Customisation
NUKE's already open architecture has been extended to make it even more customisable. A comprehensive new Developers Manual for both C++ and Python programmers makes it easier for more technical artists to write plug-ins and automate common pipeline tasks. The addition of LGPL Qt 4.6 also allows the use of any Qt user interface component directly inside NUKE.
Deep Compositing
Deep Compositing allows artists to work with 'deep images' containing multiple opacity or colour samples per pixel. This allows rendering of CGI elements without predetermined holdout mattes, avoiding the need for re-renders when content changes.
3D Compositing
Nuke's powerful 3D workspace supports OBJ import, projection mapping, geometry modifiers, and more. This true 3D environment creates powerful workflows and exciting new ways to approach compositing.
Stereoscopic Support
Nuke 5+ has included support for working with stereoscopic and multi-view projects.
Multi-channel, high dynamic range compositing
Nuke delivers the industry's broadest support for EXR images. Read, process and write over a thousand channels per stream, improving data management and workflow.
Keying
Nuke's exclusive Image Based Keyer (IBK) gives artists powerful tools for dealing with uneven backings. Primatte and Keylight are built-in.
Flexible User Interface
Savable layouts, dockable panels, GUI customization capabilities and features like the 'bullseye' and 'input' buttons make managing large, complex composites easier than ever.
Fast Rendering
Even when processing high resolution footage at 32-bit floating point precision on modest hardware, Nuke's multi-threaded, scanline-based rendering engine gives rapid feedback.
Scripting
Nuke offers an extremely open architecture. Both its node graph and user interface are accessible through the Python and TCL scripting languages, making it possible to customize Nuke in innumerable ways. If you really want to drill down, Nuke supports the industry standard OFX plug-in API as well as a native developers' kit (NDK) for creating your own tightly integrated plug-ins.
Architecture
Scanline-based image processing engine is highly memory efficient and provides fast feedback.

1023 channels of 32-bit floating point color data, organized into user-definable layers.

Nuke is resolution independent so you can read your images, do your thing then output at the resolution/s of your choice.

You can enhance Nuke with third party plug-ins or utilize the NDK or OFX API to develop your own.

Highly multi-threaded on all supported platforms to take full advantage of multiple processor systems and multi-core CPUs.
Workflow
Take advantage of Nuke's extensive customization capabilities to make complex procedural effects accessible at the touch of a button.

Plain-text project files for easy external editing and processing.

Expression support throughout the interface.

Nuke features a handy drop down menu, which lists image formats by name along with the corresponding resolution and pixel aspect ratio.

Automatic proxy switching. Nuke's intelligent updating is a much more efficient way of working with images, it only computes what you are looking at which vastly reduces turn around time.

Give attention to every detail with Nuke's 32-bit floating point quality scanline rendering.
User Interface
Advanced window management. Saveable layouts, GUI customization capabilities and quick-access features such as the 'bullseye' and input buttons make navigating large projects easier than ever.

Node-based workspace enables rapid construction and editing of complex 2D and 3D composites. Offers a variety of node annotations, grouping (with export), colored backdrops, thumbnail images, and more.

A comprehensive 3D workspace. Create complex virtual environments in the OpenGL accelerated 3D workspace using built-in primitives, geometry imported from .OBJ files, and camera projections.

One or many viewers can be used, showing the output of any node. All viewers support OpenGL 3D scene viewing, wiping between multiple sources, custom LUT's and more.

Multiple image outputs from the same script.

Graphical and command line interfaces enable you to interact with Nuke in the interface that is most efficient for you.

Nuke is supported by many third-party render queuing applications and offers a straightforward command line rendering interface for easy integration with bespoke systems.
Viewers & Flipbooking
2D and 3D viewer modes (with OpenGL™ preview).

Multiple, concurrent image viewers.

User-definable Region of Interest (ROI).

Support for input A/B comparison on every viewer.

Integrated FrameCycler™ Professional for frame-rate accurate playback.
Major Features
Python scripting.

Stereoscopic workflow.

Four-point 2D tracking/stabilization.

Per-session undo/redo history throughout UI with user-definable autosave intervals.

Color correction: offset, gain, gamma, hue, saturation and contrast controls (per shadow, midtone and highlight region); full histogram control; spline-based curve control; look up tables (LUTs); hue correction; conversions among industry standard color spaces.

Support for industry standard file formats including up to 1023 channels from OpenEXR files.

Extensive set of image processing tools like noise, Gaussian blur, vector blur, defocus, dilate/erode, keying, Bezier matte tools, grid and spline warping, and a variety of image merge methods.

Concatenated 2D and 3D transforms with user-selectable filtering methods for producing the best possible end result.

Fully-fledged animation editor.

Drag and drop parameter linking saves typing expressions.

Advanced motion-analysis based retiming.

Rotoscope shapes supporting per-point feathering, delivering increased flexibility when rotoing elements with motion blur.

Highly customizable layout – save and restore up to six custom layouts of tabbed panels or floating windows.

Any number of shapes and paint strokes with a flexible layer/group hierarchy
Per-point and global feather
Per-shape motion blur
Individual shape, stroke and group attributes and transformations
Animation key frame and tracker support
Recursive clone and other brush effects
Blending modes and layer operations

Keylight, the industry-proven blue/green screen keyer, now ships with Nuke 6.0v1 at no extra charge.

RotoPaint node providing rewritten and additional new tools for creating and animating detailed roto shapes, paint and clone strokes, integrated together in a non-destructive layer-based hierarchy.
3D Tools and Features
3D scene scanline renderer with multisampled motion blur.

OBJ import with UV preservation.

Texturable cards, bicubic and bilinear meshes, and standard geometric primitives.

Projection mapping capabilities.
Keyers
Advanced Image Based Keyer (IBK).

Integrated Primatte™ keyer.

Integrated Keylight™ keyer.

Hue and Luma/channel keyers and spill suppression tools.
Shapes and Drawing
Support for an unlimited number of fully animatable spline-based masks.

Vector-based, anti-aliased text generator.

Noise, grids, linear and radial gradients.
Curves and Expressions
Powerful curve editor for visualizing and editing curves and expressions.

Interactive curve sketching.

Robust expression language offering a wide variety of mathematical functions.
Nodes
Grouping functions: create reusable setups from node clusters; selectively expose parameters from nodes within groups; create custom parameters and populate them with values via expressions.

Clone function: create node instances that maintain dynamic links with parents.

Annotation tools: name and color individual nodes; insert resizable, color-coded backdrops.

Filtering: find and select nodes and groups according to name or comment.
---
Version / Release Updates



NUKE 10.5 is here!!


The NUKE 10.5 release contains new features and workflow enhancements that make NUKE STUDIO more reliable, more flexible and easier to use. Here are some of the enhancements existing customers have asked us for:
New ability to control the format and resolution to be used for plates and renders in any part of the project, while maintaining any Soft Effects
Creating a composition script from the timeline now maintains concatenation for higher quality results, reduces node complexity and produces a better layout
Improved export controls that let you specify different resolutions for exported comps versus rendered frames, among other enhancements
We've added 11 additional blend modes to choose from when overlaying tracks in the timeline, including Multiply, Color Burn and Screen


---
Videos


Specifications & Licensing
System Requirements

Operating Systems

Mac OS X 10.5 "Leopard" (excluding Nuke 7.0), 10.6 "Snow Leopard", or 10.7 "Lion" (Nuke 7.0 only)
Windows XP Professional x64 Edition, Windows 7 x64, or RHEL 5.4 for Intel64 or AMD64
Hardware Requirements
Windows and Linux
x86-64 processor, such as Intel Pentium 4 or AMD Athlon, with SSE3 instruction set support (or newer)
5 GB disk space available for caching and temporary files
At least 1 GB RAM
Display with at least 1280 x 1024 pixel resolution and 24-bit color
Graphics card with at least 512 MB of video memory and driver support for OpenGL 2.0
three-button mouse
To enable optional GPU acceleration of Viewer processing, you need OpenGL 2.0 with support for floating point textures and GLSL.
To enable NUKEX 7.0 to calculate certain nodes using the GPU, you need to have:
An NVIDIA GPU with compute capability 1.1 or above. A list of the compute capabilities of NVIDIA GPUs is available at:http://www.nvidia.co.uk/object/cuda_gpus_uk.html
Graphics drivers capable of running CUDA 4.0 or above. On Windows and Linux, these are the normal graphics drivers for your NVIDIA GPU: Windows 275.36 (released June 20111.19) or later, Linux 270.41.19 (released May 2011) or later.
Mac OS X
x86-64 processor, such as Intel Core 2 Duo or later
5 GB of disk space available for caching and temporary files
At least 1 GB of RAM
Display with at least 1280 x 1024 pixel resolution and 24-bit color
Graphics card with at least 512 MB of video memory and driver support for OpenGL 2.0
To enable optional GPU acceleration of Viewer processing, you need OpenGL 2.0 with support for floating point textures and GLSL.
To enable NUKEX 7.0 to calculate certain nodes using the GPU, you need to have:
An NVIDIA GPU with compute capability 1.1 or above. A list of the compute capabilities of NVIDIA GPUs is available at:http://www.nvidia.co.uk/object/cuda_gpus_uk.html
Graphics drivers capable of running CUDA 4.0 or above. On Mac, the CUDA driver is separate from the NVIDIA graphics driver and will need to be installed, if you don't have it already. Graphics drivers can be downloaded fromhttp://www.nvidia.com/drivers and the minimum requirement for CUDA 4.0 is 256.02 (released June 2011).
---
Licensing
Nuke licenses are issued as floating.  Node-locked licenses are available upon request.
All licenses are locked to the computers MAC/Ethernet address.  Download Foundry System ID from the link below.  Once downloaded, launching the program will generate a pop-up with your system ID.  Send your System ID to RFX for licensing.

The Foundry FFT 5.0 License Manager for Nuke and other Foundry Products (FLEXlm tools)

Requirements for FlexLM:

OS X (10.4 & 10.5), Linux Centos 4.5 (32bit or 64bit), Irix 6.5+, Windows XP, Vista or 7.  Other operating systems are likely to work.
Additional Info
Upgrades / Support
The Foundry offers the following Upgrades and Support options:
Nuke Maintenance
1 year required with every new purchase of Nuke
Free Upgrades
1 year access to customer support by phone/email
Upgrades

Upgrades from previous versions of Nuke requires active maintenance.
Upgrade from Nuke to Nuke X
Support
RFX is available for all your support needs.
The Foundry provides support with active maintenance
---
Rentals
90-Day rentals available for:
Nuke
Nuke X
Nuke Render Nodes
---
 Related Products
Nuke is compatible with the following plugins
Foundry Plug-ins for Nuke

Furnace
Ocula
RollingShutter
GenArts Plug-ins for Nuke

Sapphire
Tinder
Monsters GT
Re:Vision FX Plug-ins for Nuke
DE:Noise
ReelSmart Motion Blur
Twixtor
Nuke is also compatible with the following applications:
The Pixel Farm PFTrack
Vicon Boujou
Imagineer Systems Mocha
Silhouette
RenderMan
---
 Training / Resources

Custom Training:
Go to swdfx.com for custom training from Steve Wright
Steve Wright is a senior visual effects artist and trainer with over 20 years of production experience creating digital effects for over 60 feature films, including three years working with the Digital Intermediate process. As a senior digital compositing artist and 2D Technical Director he has an unusual combination of both artistic and technical understanding of Digital Compositing and Digital Intermediate.
His independent services include:
Master Compositing Trainer
Nuke & Shake Training
Freelance Digital Effects Artist
Feature Film Titling
Speaker & Lecturer
Visual Effects & Digital Intermediate Writer
Online Training:
Resources:
Go to the Nukepedia for resources, tutorials, and all things Nuke