Syflex
Description
SyFlex is a cloth simulator that provides realistic cloth animations for 3D visual effect sequences in film,  broadcast and commercials.

SyFlex features an incredibly fast and stable engine and the comprehensive set of tools provided with the plugin allows for a wide range of effects for creating digital cloth. Syflex is extremely simple to operate.
---
Features
Cache
The simulation can be saved in cache files, allowing to re-play it quickly. It also allows to re-simulate selected frames, without recomputing the whole sequence. It is possible to blend different cache files, choosing which part of the cloth to keep from each cache by using the paint tool.
Nails and Pins
The vertices of the cloth can be fixed in space, using nails. The nails can be animated, thus allowing interesting possibilities for manipulating the cloth movement. Any vertex can be pinned to another static or moving object (for instance to make a belt).
Per-Vertex Properties
The properties of a cloth, such as its mass or stiffness, can be modified on a per-vertex basis, using Artisan maps.
Collisions
Collisions of the cloth with any static or moving object are computed accurately. To optimize collisions, the user can specify which faces perform collision. Self-collisions are also accurately computed.
SDK
With some basic knowledge of programming, SyFlex can be customized. New forces and constraints can be created.
---
Videos & Images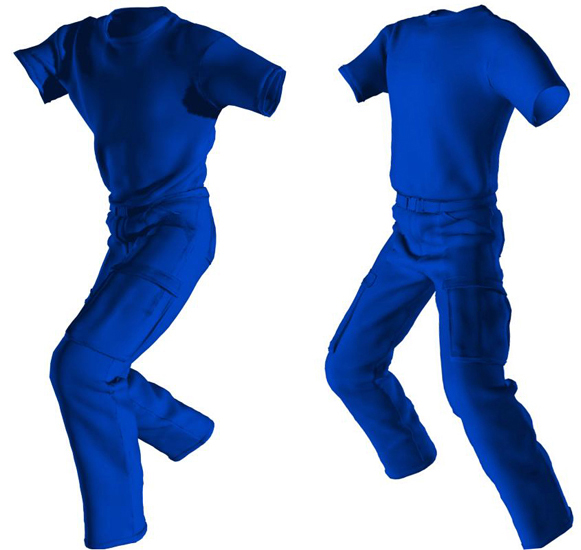 Specifications & Licensing
System Requirements
Operating System
Host Applications
Maya 2011 / 2010 / 2009 (all OS supported by Maya)
Softimage (Windows)
Houdini (Linux)
LightWave (Windows)
3ds Max 2010 (Windows)
Rendering
SyFlex can bake the animation in "cache" files. Once cached, the simulation can be used for rendering without any SyFlex licenses. This is also useful in team work, when one team is creating the simulations and another (say the lighting department) proceeds with applying additional effects onto the simulations.
---
Licensing
Upon purchase software and licenses will be delivered electronically.
After downloading, the installation program will generate a code and prompt you to mail it to us. Shortly after sending this email, your license key will be emailed back to you, and you can complete the installation.
Commercial Licenses
Floating license only
Node-Locked licenses available upon request
Academic Licenses
Floating License only
Node-Locked licenses available upon request
Schools and Universities are eligible
Student License
Nodelocked license only
Only one license per user can be purchased
Valid student/faculty member ID card or letter from School, confirming you are an active student or faculty member
Upgrade to Commercial License available
Additional Info
Upgrades / Support
Syflex offers the following upgrades and support options:

Syflex Maintenance
New releases and upgrades
Email and phone support
Upgrades
Upgrade from any previous version to current
Upgrade from Student License to Commercial license
Upgrade of SyFlex following new version releases of 3d host software (Maya, Softimage, Houdini or Lightwave) available during the first 6 months after purchase
Support
RFX is available for all your support needs
Syflex offers the following support options
Free online user forum, FAQ's and tutorials
Email support for the first 6 months after purchase
---
Related Products
The Syflex plugin is compatible with the following 3D host applications:
Autodesk 3ds Max
Autodesk Maya
Autodesk Softimage
Newtek Lightwave 3D
Side Effects Houdini
---
Educational Licenses
SyFlex offers two options for educational licenses.  Contact RFX for pricing.
Academic Licenses (Schools and Universities are eligible)
All flavors of SyFlex are available
Floating license
Student Licenses (Students and Faculty members)
All flavors of SyFlex are available
Nodelocked license
Only one license can be purchased
---
Training / Resources
Go to Forum for Q&A