Massive for Maya
Description
 Massive is a simulation and visualization solution for generating and visualizing realistic crowd behaviors and autonomous agent driven animation for a variety of industries, including film, games, television, architecture, transportation, engineering, and robotics. Using Massive, an animator, engineer or robot developer designs characters with a set of actions and reactions to "what is going on around them".
The reactions of the characters determine what they do and how they do it. Their reactions can even simulate emotive qualities such as bravery, weariness, or joy. The agent reactions can control key-framed or motion captured animation clips called actions.

Characters that perform on their own in this way are referred to as agents. Massive is a system for designing and running such agents. When scaled up into the hundreds - or hundreds of thousands - the interaction within the crowd that emerges from these individuals is highly realistic.

By building variation into an agent, the Massive artist can populate a scene with individuals who are unique in everything from physical appearance to how they respond.

Massive for Maya provides seamless integration with the Maya user interface and workflow. Clicking on Massive for Maya from the Utilities Panel will open the Massive for Maya dialog box for adding terrain, agent groups, placement generators, lanes and flow fields directly into your scene. All of the features in Massive have been carefully integrated and adapted for use in a way that Maya users will find comfortable and familiar. The simulation workflow allows for intuitive running, recording and playback of simulations. To achieve this a record and scrub button have been added in addition to Maya's time controls.  Using Massive's scrub buttons, simulations of thousands of agents in Max is now as simple and efficient as scrubbing the animation of a single character.
---
Massive for Maya Features

The power of Massive inside Maya
Massive's Academy award winning film technology is now simpler to use and more affordable than ever. There's no longer any reason to compromise on quality, scenes of hundreds of thousand can be created and rendered easily from within Maya. All that's required is a Maya license, Massive for Maya and an Agent. For an overview of what Massive for Maya can do compared to Massive Prime and Massive Jet please see the feature comparison page. For pricing please see the products page.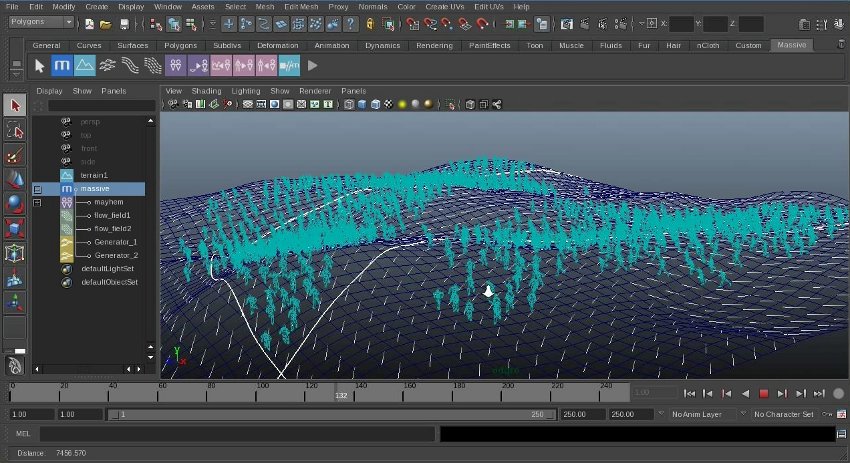 Seamless Maya integration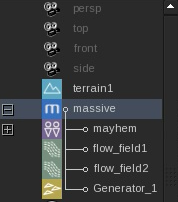 Massive for Maya provides seamless integration with the Maya user interface and workflow. Terrain, agent groups, placement generators, lanes and flow fields all turn up in the Outliner and the Attribute Editor. Editing scenes of tens of thousands of agents is simple and efficient. Almost everything can be modified using the standard Maya manipulators. All of the scene setup tools for terrain, placement, lanes and flow fields have been carefully integrated and adapted for use in a way that Maya users will find comfortable and familiar. The simulation workflow allows for intuitive running, recording and playback of simulations. To achieve this a record button has been added next to the transport controls and a special status indicator has been included in the Massive shelf. Scrubbing of simulations of thousands of agents in Maya is now as simple and efficient as scrubbing the animation of a single character. And if the Massive placement, lanes and flow field tools don't do everything that's required for the job then the MEL API can be used to achieve much more, such as scripted placement.




Lighting and Rendering
The Massive agents automatically appear in preview renders as well as batch renders alongside any other objects in the scene. Rendering in Maya works for Pixar's RenderMan, Air, 3Delight, Mental Ray, V-Ray and Arnold. This allows for lighting scenes using the familiar Maya lighting tools, without requiring any special effort to integrate Massive elements into the scene. All of this has been achieved with almost no loss of the efficiency and scalability of Massive.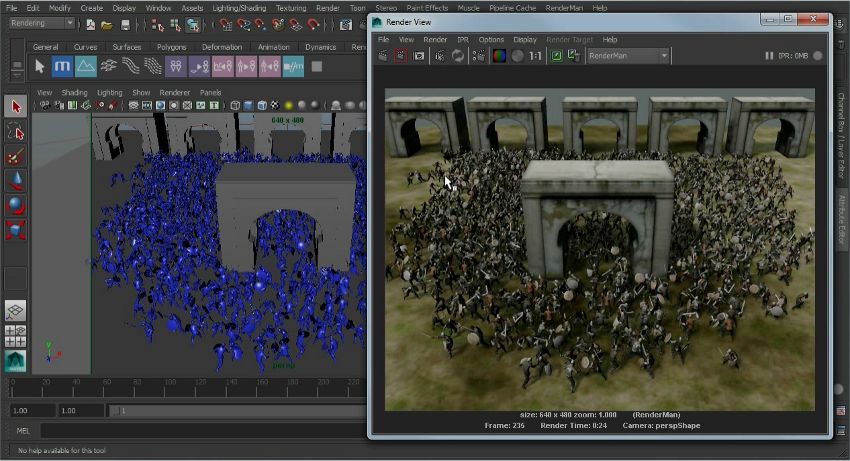 Unlimited render licenses
Maya batch rendering with any of the supported renderers doesn't require a license, so renders can easily be executed on render farms. Previously only the Massive render plugins were license free, but due to the way batch rendering works in Maya we made Massive for Maya for batch rendering. This means that it isn't necessary to write out any render files for rendering, just kick off a batch render.


Edit simulations in the Maya graph editor
Any of the agents in a simulation can be made editable in the Maya graph editor. This allows for immediate editing of simulations without leaving the Maya environment. Any changes made to the animation in the graph editor automatically feed back to the Massive agents, so the tweaked agents will appear in the render even though the user sees a Maya character for editing purposes in the viewport. The editing process can even be used with complex animation control rigs, allowing animators and motion editors complete freedom to work however they want to.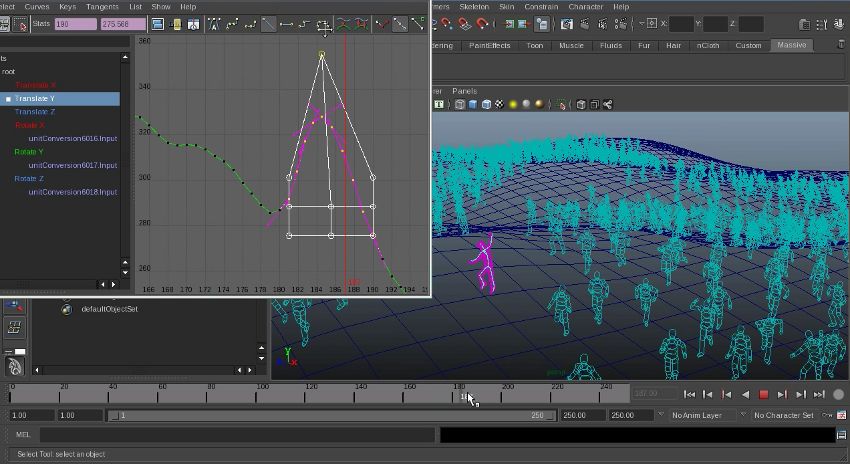 Directable characters
A major advantage of Massive for Maya is the ability to bring Massive's famous brains to character animation, providing another vital tool for creating the illusion of life. While animation studios have integrated Massive into their pipeline to do exactly this for years, the ability to create directable characters has not been within easy reach for those using off-the-shelf solutions. With Massive for Maya it's now possible to create characters using a handful of base cycles, takes and expressions that can handle such tasks as keeping alive, responding to the the focus of the shot, responding to simple direction, or simply walking along a path, thus reducing the amount of work required to fill out a scene with characters which are not currently the focus of the shot.
For example, in a scene in which two characters are talking with eachother and a third character, say a mouse, is reacting, the mouse could be driven by it's Massive counterpart. The talking characters would drive their Massive counterparts thereby being visible to the mouse. Using attributes in the talking characters, their Massive counterparts could change colour to convey their emotional states to the mouse agent. The mouse agent then performs appropriately, using it's animation cycles, blend shape animations etc in response to the performance of the talking characters, and looking at whichever character is talking. Once the agents for a project have been created, setting up a shot for this technique requires only a few mouse clicks and the results happen in real-time. Any edits to the timing of the shot will simply flow through to the mouse performance.
Specifications & Licensing
System Requirements

Minimum:
1 GHz Processor
1GB of RAM
NVIDIA graphics cards                

Recommended:     
2 - 3 GHz Processor
16GB of RAM
NVIDIA Quadro FX series graphics card                                     

Hard disk requirements:
10 MB for Program Installation
5 MB for documentation
2.5 GB for learning materials


List of certified graphics cards:
NVIDIA Quadro FX
330, 350, 350M,       
500, 540, 550, 560,      
600 PCI, Go700, 700,        
Go1000, 1000, 1100, 1300,        
Go1400, 1400, 1500, 1500M,        
2000, 2500M,        
3000, 3000G, 3400,        
3450, 3500, 3500M,       
 4000, 4000 SDI, 4400,        
4500, 4500x2, 4500 SDI,        
5500, 5500 SDI
Supported Operating Systems (64-bit):
Fedora Core 2
Fedora Core 4
Fedora 8

Host Application Support
Autodesk 3ds Max

Rendering
Support for:
Mental Ray
V-Ray for Maya
Maya render
---
Licensing:
Massive is sold as a floating license. Massive can be run on any machine in your network, but the number of licenses you own is the maximum number of machines that can be running Massive at once. The number of processors running on that machine do not affect the count.

The procedural primitive plugins (Massive.so and run_program.exe) do not require a license to run, so if you are doing software rendering on a render farm, you would not need additional Massive licenses on the rendering machines.
Massive License server (MHost) is required for Massive to work
MHost v.5 System requirements:
Windows XP, Vista, 7 and 2008 Server 32 / 64 bit
Linux (RHEL), CentOS 64 bit
Virtual Machines are NOT supported
Additional Info
Upgrades / Support
Massive Software offers the following Upgrades and Support options:
Massive Maintenance
1 year required with every new purchase of Massive Prime / Jet
Free upgrades
1 year access to customer support
Access to community forum
Upgrades

Upgrades from previous versions of Massive requires active maintenance.
Upgrade from Massive Jet to Massive Prime
Support
RFX is available for all your support needs.
Massive Software provides support with active maintenance
---
Related Products
Massive Prime
Massive for 3ds Max
Massive Software Agents
---
Educational Licenses
Educational licenses of Massive Software are available.
Available for educational institutions: Packages include Massive Prime 10 User Education Bundle. The bundle includes 10 licenses of the flagship product Massive Prime, 12 months maintenance, the educational version of Ambient, Locomotion & Stadium Agents, and comprehensive courseware designed to allow easy integration into existing training programs. Please note that Massive Jet is not available for Education, and one (1) tutor or teacher submits support requests for all students at education site.
Lessons sit side-by-side with Massive for convenient reference. This course provides the learner with an introduction to Massive Software. Students will learn how to use Massive's fuzzy logic interface to create autonomous agents from scratch, beginning with a simple crowd of boxes and eventually creating human agents with motion captured actions. Students are also introduced to rigid body dynamics, geometry skinning, variation, and cloth simulation, giving them a strong overview of Massive's feature set. This is a 40 hour course including 13 evaluations.
Contact RFX for special packages.
---
Training / Resources
The Massive Online Community is available with active maintenance.