psd-manager
Description
psd-manager 3.0 is a PSD file exporter available for 3ds Max 2009-12 and 3ds Max Design 2009-12. Now, for the first time you can readjust nearly everything in your renderings with Adobe Photoshop or any other application that supports PSD files. psd-manager is a tool that will help you save time and money by integrating the tools you know and like best.
With psd-manager 3.0, you can save your 3ds Max files as layered PSD images, then re-adjust nearly everything in your output renderings within Adobe® Photoshop® or any other application that supports PSD files.
---
 New Features in psd-manager 3.0
32-bit (HDR) layered PSD files:
psd-manager 3 now offers the high dynamic range and color precision of 32-bit floating point Photoshop files for ultimate flexibility in post production. Los-less ZIP compression ensures a maximum of image quality at reduced file sizes.

MatteShooter technology:
Artists worldwide value psd-manager, because of the effortless way to generate precise masks aplenty from within 3ds Max. New MatteShooter algorithms now allow to extract mattes even faster. The more layers and channels are generated for objects and materials the faster psd-manager now becomes. Production scenes from customers have shown a speed-up around 40%. Shooting out 100 masks doesn't require any more memory then a single one, because of on the fly processing. All psd-manager modules that extract objects & materials benefit from the new MatteShooter technology.

3ds Max layer export:
Scene layers can now be exported as PSD layers, offering a new way to produce masks that eliminates the tedious task of having to assign IDs to objects. This is a direct result of the new MatteShooter technology in psd-manager 3.

Render Elements with ease:
New built-in customizable presets for V-Ray 2.0 and finalRender 3.5 make it simple to compose render elements. Layers are sorted and blending modes already setup as soon as PSD files are imported into Photoshop, as a composition into After Effects or any other application supporting PSD files. A total of 116 different render element types are now preconfigured by psd-manager 3.

Render Cut-outs:
"Render Cut-outs" is a new PSD layers export mode that cuts the rendered image into pieces by object, object-Id, material-Id or by 3ds Max layer. The PSD layers provide artists with an excellent starting point for post-production.

Autodesk 3ds Max 2012 support
psd-manager 3 now supports all Autodesk 3ds Max & 3ds Max Design releases from version 9 up to 2012.
---
psd-manager Features
This powerful plug-in lets you add all of the different Render Elements layers within your scene as layers inside of a PSD file - no more trouble composing dozens of Render Elements, because the presets and automatic layer sorting within psd-manager make it a breeze to setup the correct layer order. Also, you can manually control the blending modes in addition to the order of the output layers. Plus, once inside Photoshop, you can use the new version 7/CS/CS2/CS3 blending modes to adjust your output.
Imagine being able to to alter any aspect of your image; tweaking a single model or adding completely new effects to your entire scene. It will change the way you work. For example, using psd-manager you can make color corrections, add depth of field and fog, smooth shadows, paint more detail without affecting shadows and highlights, blur and weight reflections, adjust highlights, add glow effects - and much more. When you think about it, most of these effects were only possible previously in compositing applications, but with psd-manager you can achieve them in familiar 2D image editing applications like Adobe Photoshop.
But psd-manager doesn't stop there. What you really need during post production and for last minute changes, are accurate anti-aliased selections/masks. That is why psd-manager allows you to add selections or layers for each object and/or material of your choice to the final PSD file. Gone are the days when you had to draw selections by hand or to render time consuming additional passes to obtain them. You can even add your various G-Buffer Channels to the PSD file. Since psd-manager relies on such core 3ds Max capabilities as the G-Buffer output and Render Elements, it is fast, extensible and open to all renderers.
Feature List
Unique support for 16 bits per channel PSD files
Export of  8, 16 and 32 bits (HDR) per channel PSD files
Produces 100% compatible PSD files (Adobe® Photoshop® file format)
Output of rendered image as layer with transparency or layer mask
Outputs all 3ds Max Render Elements as layers into one single psd file
Extremely customizable render element layers (order, blending modes,...)
Easy setup through built-in preset system and automatic layer sorting
Optimized render element presets for finalRender, V-Ray and mental ray
Output of objects as separate layers and channels
Output of groups of objects as separate layers and channels (using Object IDs)
Output of materials as separate layers and channels (using Material Effects IDs)
Output of 3ds max scene layers as separate layers and channels
Output G-Buffer channels (Material effects ID, Object ID, Node ID,Normal,Non-Clamped Color)
Embedding of camera and point helper animation for import into Adobe After Effects
3ds Max Gamma correction system support
Batch Render compatible
Asset management support
MAXScript access and control for all parameters
Unilimited free network rendering
Can selectively prevent standard 3ds Max image/render element file output
Low memory requirements through on the fly processing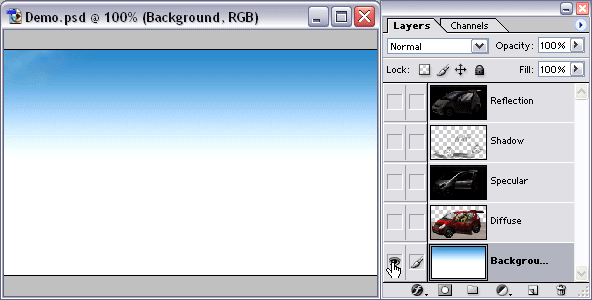 Rendered Image Output
As a Layer:
Your rendered image can be saved as a separate layer with its alpha stored as layer mask. Usage of a layer mask instead of layer transparency allows to keep the color information editable in Adobe® Photoshop® (you would otherwise loose the background color information that has black alpha).
As Merged Composite
PSD files created with psd-manager always contain the 3ds Max rendering result as composite data.  Composite data is a special part of a psd-file that usually contains a flattened version of the image.  Image viewers read composite data to quickly display PSD files without having to read each layer (this allows for fast display of images with huge numbers of layers). Compositing applications read composite data, if you specify "merged image" as import option.
Render Elements Output
psd-manager allows you to output each render element from your scene as a single layer.  For each render element you can decide if it will be exported and how.  You can choose which blending mode the resulting layer will use and if alpha information will show up, as layer transparency and/or layer mask. The order of render elements can be sorted automatically or freely defined.  Through the use of optimized built-in presets, all these attributes are usually setup with just two clicks.  New presets can be made for 3rd party render elements or existing presets modified to your needs.
global enable/disable output of render elements as layers
enable/disable output of render element as layer
automatic and manual layer sorting
choosable layer blending mode
optional layer tranparency output
optional layer mask output
premultiplied/nonpremultiplied color
switchable layer visibilty
automatic configuration and arrangement of render elements (supports 3ds Max, finalRender, VRay, finalToon and other 3rd-party render elements)
custom presets can be created (e.g. for 3rd party render elements)
custom presets can overwrite built-in ones
optionally prevent standard 3dsmax render element output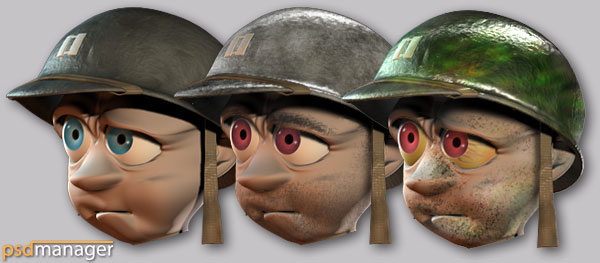 G-Buffer Output
Selections / Layers (Only Transparency)
One of the most tedious tasks during post production is creating exact fitting masks and selections.  For example, by using the lasso tool in Adobe® Photoshop® or rendering additional passes, psd-manager lets you concentrate on the creative, more challenging tasks, and by doing so saves you a lot of time.  It can create perfect anti-aliased masks for objects and materials of your choice.  Since all information to do this comes from 3ds Max G-Buffer, this is a very fast process.  The created masks can be stored as channels or layers in the PSD file.
Storing masks as layers, instead of channels, is a very important option, because the maximum number of channels per PSD file is 24.  Having a mask/selection present as layer also allows for a great Photoshop workflow.  Using the move tool, you can simply right click to select the appropriate layer under the cursor and another Ctrl + click, to load it as selection.  So even with large numbers of layers you won't get into trouble finding the appropriate one.  To reduce clutter all layers are organized in layer sets.
psd-manager's perfect selections let you modify every object or material in your image after rendering.  Color corrections, hue shifts, level adjustments and applying filters are just a few of the things you can do with ease.  Especially in combination with render elements, the possibilities are endless.  You can decide which object/material to change and furthermore which property of it (e.g. Reflections, Specularity)...and of course, everything without rerendering.
Selections are usually all you need, but for special purposes, it is usefull to have an object isolated on its own layer (e.g. multimedia authoring, screen design, game design).  For example, to create some user interface elements for a game you could have several objects in a 3ds Max scene layed out side by side.  With psd-manager, you can get each one on its own layer in a single psd file. Options allow you to choose between premultiplied and non-premultiplied alpha, whatever best fits your needs.  The created layers contain only the visible parts of the rendered objects (parts hidden behind other objects are not present).
G-Buffer Channels
psd-manager can also output the following G-Buffer Channels As Layers:
Material Effects
Object
Node Render ID
Normal
The Normal Layer can, for example, be used to make selections based on curvature (e.g. selecting all pixels on one side of a cube) or to create curvature based effects (e.g. applying a filter only to pixels that face the camera within a certain angle).  The other layers can be used to make 1 bit selections (no antialiasing).
Scene Data
Embedding Scene Data
psd-manager scene data output lets you embed information about the rendered 3ds Max/Design scene into PSD files.  The embedded scene data may then be used in compositing applications to create perfect matching cameras.  Point helper objects can also be stored in PSD files.  During compositing new elements may then easily be added to the image at precise 3D locations.
After Effects PSD Scene Data Import Plug-in
This free plug-in provides an easy way to import (animated) cameras and (animated) null objects into Adobe After Effects.  Unlike the RPF camera import that is only part of After Effects Professional, the PSD Import Plug-in also supports camera field of view and fields.
Download PSD Scene Data Import Plug-in for AE 5.5 - 7.0 - ZIP
Specifications & Licensing
System Requirements
Autodesk 3ds Max 2009-2012 (32-bit and 64-bit), 3ds Max Design 2009-2012 (32-bit and 64-bit)   and Autodesk VIZ 2008
Rendered Image Output
Compatible to all renderers.
Render Elements Output
Compatible with all renderers that support 3ds Max render elements (optimized for Scanline, mental ray, V-Ray and finalRender).
G-Buffer Output
Compatible with all renderers that support the 3ds Max G-Buffer.  Support for multi-layer G-Buffers results in increased output quality (Scanline, V-Ray, finalRender).
Scene Data Output
Compatible with all renderers.
---
Licensing
All CEBAS product licenses are floating licenses.  CEBAS product downloads include floating license manager. 
If running on a single workstation, you can install the license manager on it alongside the main application.
The installer that is downloaded includes installation options for license manager, Plug-in and render node.
For network licenses you must install the license manager on your license server first then activate your key on the license server.  After that you can install the Plug-in on your 3ds Max workstation, launch 3ds Max and access the plug-in from within. When you first attempt to use the Plug-in you will be prompted to activate or give a license server host name. Once you enter your license server info you will be able to use the plugin.
Additional Info
Version / Release Updates
Upgrades
No upgrades available at this time
Support
RFX is available for all your support needs.
CEBAS offers email support and online Wiki support page
---
Why PSD Files?
psd-manager produces files that are written according to the Adobe® Photoshop® file format specification.  As such they are 100% compatible with all applications that can read PSD files.  A very important and often overlooked fact is that the PSD file format is forward and backward compatible (e.g. you can open files produced by Adobe® Photoshop® CS2 in Adobe® Photoshop® 4.0 and vice versa).

The wide support throughout the industry ensures that you never have to convert PSD files to another file format.  Furthermore having all information in one file reduces the total number of files you have to take care of and therefore simplifies your project file structure.
PSD file features
lossless compression
forward and backward compatibility
industrywide support
simplified file management (reduced number of files)