pyroCluster
Description
pyroCluster 3.5 offers volume acceleration rendering technologies and 3D smoke/cloud generators for 3ds Max (2008-11) and 3ds Max Design (2009-11), 32 or 64 bit.
---
Features
To guarantee a flawless integration into 3ds max, many new workflow and design concepts have been introduced. pyroCluster is now much more user friendly and offers even better control over volumetric effects like any other tool for 3ds Max. pryocluster is available in two variations, as an integrated part of ProOpticSuite or as a separate independent 3ds Max plug-in. Both variations include full mental ray support for 3ds Max.
pyroCluster effects can be rendered in many different ways to represent all kinds of natural phenomena, including realistic dense clouds with super crisp self-shadowing. But there is more! pyroCluster can not only create smoke or haze but is perfect for fiery or solid liquid effects as well. Turbulent water falls or snow avalanches are all possible with one single product. By adjusting only a few parameters a soft vapor effect can be turned into rock solid stones or other landscape like formations. Enjoy true 3 dimensional volumetric displacement with proper and flexible self-shadowing with a minimal amount of render time.

pyrocluster effects are created based on any 3ds Max conform particle system.  All standard particle systems can be used to create smoke, fire and cloud rendering effects.  However, with real advanced particle systems, like ThinkingParticles 3.0, pyrocluster can do even more advanced effects, like no other volumetric effects product for 3ds Max.  pyrocluster is also one of the best integrated volumetric effects available for 3ds Max.  No proprietary light sources are needed to illuminate pyrocluster effects or to create shadows.  Also, blending with other volumetric effects in 3ds Max is easy and can be done on a per effect basis.
Enhanced Volume Stretching feature
Send/Receive GI for volumetrics
Caustic Receiving for pyrocluster volumes
Full mental ray support for 3ds Max and 3ds Max Design
Independent control for Self-Shadows, Cast Shadows and Light Shadows
All new Effects Editor to control all parameters via curves and effects controllers
Correct blending between 3ds Max volume effects
Highly Optimized VolumeTracer Engine with full ray marching control
All new Enhanced UI and Workflow
True and accurate VoXel shading
True 3D Surface Shadow Casting by 3D noise
Enhanced particle support for ThinkingParticles 3.0
Shadow casting support for all standard Light types
Real 3D volumetric lighting (clouds receive and transmit light)
Full finalRender Stage-1 raytracer support for reflection/refraction
Integrated particle motion analyzer
Cloud deforming/stretching by velocity
Various types of volumetric fractal generators
Z-Buffer support for focus and composing effects
Alpha Channel support
Material Effects Channel support for glow and other VP effects
Real 3D Volume Intersection with geometry
True volume light support , no special lights needed!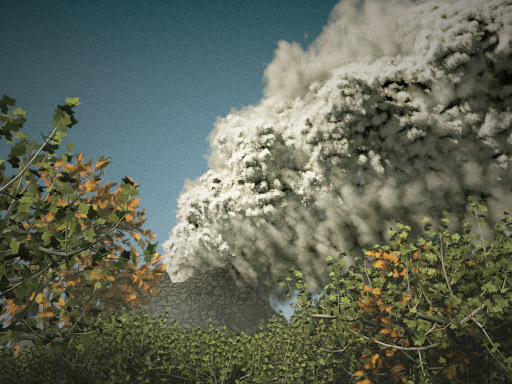 Real-Time In-Viewport Volume Rendering
pyrocluster supports hardware rendering through the graphics card to visualize the volume rendering in the standard 3ds Max modeling viewport.  This unique feature enables the user to adjust particle age, distance, or any other kind of particle based volume effect in real time.  In the "old days," one had to re-render over and over again to adjust the particle age related effects.  Things, like smoke fading to a full transparent state, can now be seen in real-time in the viewport when age parameters are adjusted.
Advanced Gradient
pyrocluster offers a new gradient control technology suitable for particle systems.  Usually cloud or smoke effects change over time or by distance to the emitter.  Take a smoking chimney, for example, the smoke starts very soft and transparent (because it's hot when it leaves the tube), then after a few inches, the smoke cools down and gets more opaque.  You will also notice a color change when the clouds drift away from the chimney.
pyrocluster is able to create the described effect with only one single particle system.  The gradual color change for each single particle, based on the actual particle's age, or by the distance to the emitter, is done through easy adjustments to the gradient control.  A cloud can start in a yellowish tone and then end up in dark oily black smoke. There is no need to change or add another particle system for such an animation!
Advanced Effect Editor Curve Control
In general, volumetric effects are very difficult to control in 3ds Max, because there is no real workflow or special support to handle complex volumetric effects with standard 3ds Max tools.
Nearly every parameter of pyroCluster can be freely animated through an effects controller that is "particle dependent," unlike standard animation methods known from 3ds Max, which can not be applied to volumetric effects, because they are based on particles and their attached data.  The big difference between a 3ds Max animation and a volumetric animation is the time base used to animate an effect.  In 3ds Max all animation effects are based on frames or ticks. In the "volumetric world" effects are based mainly on particle age.  An animated color, for example, should not change the whole particle system; a color of a smoke puff should change over its age only, which in the beginning should be yellowish and in the end should be dark gray.  A streamlined UI allows a setup of volume effects like never before.  From every single parameter of pyroCluster you may jump directly to the advanced Effect Editor Curve Control for that specific effect.
Volumetric Effects Controller
Within pyroCluster nearly every parameter can be controlled with the advanced Effect Editor Curve Control.  This is where the real unlimited power comes from; easy to use and straight forward curve controls based on effect controllers which allow an unlimited combination of effects to form the final volume rendering.
Particle Age
This is the most common effects controller that can be applied to any of the parameters offered by pyroCluster.  The color may change when a particle gets older (or dies) or maybe the density along with the noise stretch changes over the particle's age.
Object Distance
The object distance effects controller can also be applied to all pyroCluster parameters.  Based on the distance to an object the color of the volume changes.
Emitter Distance
Effects based on the distance a particle has traveled away from the emitter are also very common.  Those effects can be used to simulate a dissolving exhaust of a factory.  Also here, like all effect controllers, every parameter can be animated, based on the particle distance to the emitter.
Particle Velocity
Effects based on the speed of the particle offer a very flexible way of controlling an effect. Once again, all parameters can be animated through this effects controller.
Advanced Illumination
pyrocluster's advanced density based illumination algorithm allows for properly simulated light emission from inside a volumetric rendering effect.  No single light source is necessary to create this effect, in fact, the atmospheric effect becomes a real light source itself!
All aspects of this advanced internal illumination of a volumetric effect can be controlled in detail with the unique Volume Effects Curve Editor of pyroCluster.  Such things like the falloff of the "internal" light intensity can be easily controlled along with the color or transparency change over distance or age of the particle.  These advanced volumetric rendering effects are perfect for simulating light which emits from inside of a volume, like that which is found in burning oil or lava.  A hot core will make the inner parts emit light to the outer edges of the volume.
Shadows
Every pyroCluster volume may now have independent shadow types or settings that may be different from the actual light settings.
pyrocluster offers proper and accurate shadow casting and light receiving for cloud and smoke effects based on standard 3ds Max lights.  Receiving light and casting shadows is necessary to create realistic renderings.  For example, you can use pyroCluster to make light rays visible.  A car driving down a foggy road with lights illuminating the fog is as easy to create as modeling a sphere in 3ds Max.  Each pyroCluster volume can have an independent shadow map size that can overwrite the values of the light source.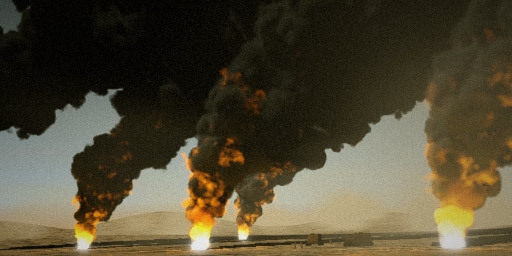 Advanced thinkingParticles Support
pyroCluster offers special features and functions that directly hook into thinkingParticles.
mental ray support
pyroCluster is at present, the first advanced atmospheric plug-in for 3ds Max to support mental ray in the form of a true native and highly optimized mental ray volume shader.  pyrocluster for mental ray was built from the ground up in parallel with the main 3ds Max development of pyroCluster.

The fact that both products were using different devlopment environments (SDK) did not influence the final quality and outcome of the rendered effect.  A pyroCluster effect rendered with mental ray has nearly the same look and quality as rendered with the 3ds Max scanline renderer or finalRender.  However, due to the advanced and more developed features of finalRender, Global Illumination for volumetric effects with pyroCluster is only possible when finalRender is used.
pyroCluster comes with a 2 (two) processor license for rendering pyroCluster effects with 3ds Max or other 3d applications.  If there is a need for more rendering licenses, they can be easily purchased and registered online at the cebas store.
Native Particle Flow Support
pyroCluster offers full support for all major particle systems in 3ds Max, including Particle Flow.  An additonal pyroCluster operator for PFlow comes with every pyroCluster installation.  This operator allows the access of each particle collection in a PFlow event.  It's the most flexible and powerful way to create multi-event based, volumetric rendering effects.
Raytracing Clouds and Smoke
pyroCluster is compatible with all professional rendering engines available for 3ds Max. Raytracing effects like refraction and reflection are handled properly with finalRender, mental ray and the built in raytracer of 3ds Max scanline renderer.
Really advanced state of the art raytracing systems like finalRender support true secondary illumination effects caused by indirect light sources.  Also caustic rendering effects within pyroCluster are possible and rendered very efficientgly within finalRender.
Atmospheric Global Illumination
pyroCluster is still the only atmospheric renderer for 3ds Max which supports receiving and sending Global Illumination.  Such advanced Global Illumination features are only possible when finalRender is used.  Thanks to the highly optimized GI rendering core of finalRender, it is even possible to generate true Global Illumination within an atmospheric effect itself! A cloud effect may for example create super soft self shadows and self-light based on indirect illumination caused by the cloud itself.
Volume Caustics with pyroCluster
pyroCluster supports volume caustics created by finalRender or mental ray.  Thanks to highly optimized ray marching algorithms, volume caustic rendering within pyroCuster volumes can be done very efficiently without a large rendering overhead.
Cartoon Smoke
pyroCluster offers several shading methods for atmospheric rendering within 3ds Max.  One option is a cartoon style shading for 3D-atmospheric effects like smoke, fire or dust.
Setting up such shading effects is very easy and straight forward.  It involves just a single mouse click to turn a photorealistic smoke effect into a puffy cartoon rendering.
pyroCluster is the perfect match for finalToon!
---
Video
Meteor Test
Specifications & Licensing
System Requirements
Hosts:
3ds Max 2008-2011
3ds Max Design 2009-2011
32 or 64 Bit
---
Licensing
mental ray Volum Shader Licensing
pyroCluster comes with a 2 (two) processor license for rendering pyroCluster effects with 3ds Max or other 3d applications.  If there is a need for more rendering licenses, they can be easily purchased and registered online at the cebas store.
All CEBAS product licenses are floating licenses.  CEBAS product downloads include floating license manager. 
If running on a single workstation, you can install the license manager on it alongside the main application.
The installer that is downloaded includes installation options for license manager, Plug-in and render node.
Additional Info
Upgrades / Support
Upgrades
No upgrades available at this time
Support
RFX is available for all your support needs.
CEBAS offers email support and online Wiki support page
For more advanced Particle simulations and controls, see Cebas Thinking Particles