maxVR.qt
Description
maxVR.qt 2.0 is a 3ds Max (2008-13) and 3ds Max Design (2009-13) plug-in that lets you easily create QuickTime MOV files for the web or CD-ROM.  maxVR.qt uses the latest QuickTime technologyies, licensed and distributed by Apple, to create QuickTimeVR panorama files or Object QuickTimeVR MOV files.
Panorama QuickTimeVR MOV files enable you to present a 3D scene in realtime one even very "old" computers. Panoramic renderings are usually used for interior views of complex 3D scenes. A 3D look is faked by mapping the panoramic rendering onto a simple sphere and allowing the user to move a virtual camera. The user may look all around and see every single detail of the 3D objects in a scene. The MaxVR.qt 2.0 plug-in automatically creates such panoramic renderings by using any of the available 3ds max/Design rendering methods. All spherical pre-distortion and pre- calculations are done by the plug-in without any user interaction. Any possible 3ds Max/Design image resolution may be used to create even the highest quality MOV files.
3ds Max is able to handle MOV files to create still images or animation (AVI files). However, 3ds Max cannot create QuickTimeVR panorama files or Object QuickTimeVR MOV files. For the first time, maxVR.qt offers full support under 3ds Max and 3ds Max Design (VIZ) for Apple's QuickTime file format.
---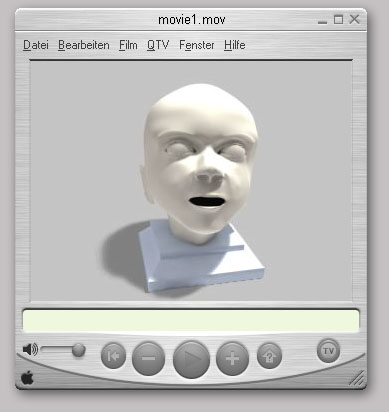 Features
3ds Max 2008-2013 compatible plug-in
3ds Max Design 2009-2013 compatible plug-in
QuickTime Panorama HotSpot editor included!
**NEW** QuickTime Cubic VR support true 360°
3ds Max/Design raytracer is supported
3ds Max/Design scanline renderer is supported
3ds Max/Design Render Effects are supported!
QuickTime Version 2 support
QuickTimeVR Panorama supported (QT4.1 style)
Object QuickTimeVR supported
Automatic MOV file creation
All QuickTime codecs are supported by maxVR.qt 2.0
cebas' own "Point and Click" Object VR functionality
Enhanced Object VR leveling function
Advanced spin feature for Object VR
Freely adjustable compression ratios for web transport
Specifications & Licensing
System Requirements
Hosts:
3ds Max 2013, 2011, 2010 and 2009
3ds Max Design 2013, 2011, 2010 and 2009
---
Licensing
All CEBAS product licenses are floating licenses.  CEBAS product downloads include floating license manager. 
If running on a single workstation, you can install the license manager on it alongside the main application.
The installer that is downloaded includes installation options for license manager, Plug-in and render node.
For network licenses you must install the license manager on your license server first then activate your key on the license server.  After that you can install the Plug-in on your 3ds Max workstation, launch 3ds Max and access the plug-in from within. When you first attempt to use the Plug-in you will be prompted to activate or give a license server host name. Once you enter your license server info you will be able to use the plugin.
Additional Info
Upgrades / Support
Upgrades
No upgrades available at this time
Support
RFX is available for all your support needs.
CEBAS offers email support and online Wiki support page