scalpelMAX
Description
ScalpelMAX is a 3ds Max 2008-2013 and 3ds Max Design 2009-2013 object modifier, offering advanced slicing functionality with many specialized features. ScalpelMAX is perfect for users who create complex CAD viszualisations with polygon counts above 100.000. Also, games and video effects people will love SclapelMAX because of its incredible texture slicing feature. Mapping coordinates won't be affected by ScalpelMAX operations and this makes it possible to cut down any geometry without losing the materials and mappings!
---
Features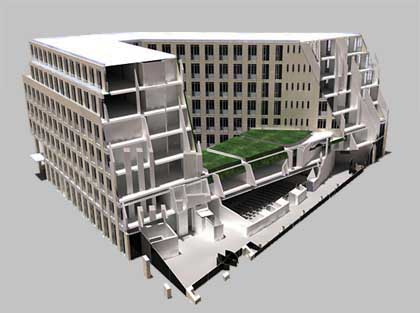 ScalpelMAX can handle much higher polygon counts in realtime than the standard slice feature. ScalpelMAX also uses less memory to process the slice operation and this makes it also much faster than the built in feature. Another feature is it´s very high accuracy! ScalpelMAX won't fail doing the cut operation while the standard feature gives up and creates unusable "data rubbish". Everybody who has ever used the standard Slice function for complex tasks, knows what that means. The standard Slice often is not able to do the job accordingly, Scalpel is able to do it because it simply calculates more accurately and efficiently.
3ds Max 2008-2013 32 and 64bit compatible plug-in 
3ds Max Design 2009-11compatible plug-in 
Engineering quality Realtime Slicing of any 3D Object
Optimized Memory usage
Advanced Texture Cut Correction (TCC), keeps mapping coordinates
Auto-Slice feature (lets you create thousands of slices in one go)
Automatic Spline Generator (used for NURBS Surface Reconstruction)
Full Material ID Slice-Plane control (Top, Bottom, Remaining)
Automatic cut Object Face selection (remainder, cut-away)
Independent Slice-Plane UV Mapping control
Special "Best Guess" Cap Feature to create Solid Objects
Hierarchy Mesh Analyzer built in, detects holes in solid objects
This is where ScalpelMAX comes into play. ScalpelMAX lets you open up your constructions and show it to your customers. Even animated sequences with multiple layered cuts through any number of objects is easily possible.
scalpelMAX is also included in Cebas volumeBreaker
Specifications & Licensing
System Requirements
Host Requirements

Works with the following via Plugin:
3ds Max 2008-2013 32/64 Bit
3ds Max Design 2009-2013 32/64 Bit
---
Licensing
All CEBAS product licenses are floating licenses.  CEBAS product downloads include floating license manager. 
If running on a single workstation, you can install the license manager on it alongside the main application.
The installer that is downloaded includes installation options for license manager, Plug-in and render node.
For network licenses you must install the license manager on your license server first then activate your key on the license server.  After that you can install the Plug-in on your 3ds Max workstation, launch 3ds Max and access the plug-in from within. When you first attempt to use the Plug-in you will be prompted to activate or give a license server host name. Once you enter your license server info you will be able to use the plugin.
For render nodes, follow the same steps above for the workstation, after you have successfully accessed the plugin from within 3ds Max on the render node, shutdown 3ds Max and your done.
Additional Info
Upgrades / Support
Upgrades
No upgrades available at this time
Support
RFX is available for all your support needs.
CEBAS offers email support and online Wiki support page