HIERO
Description
HIERO is a shot management, conform and review timeline for VFX. It allows you to easily parcel out VFX shots to NUKE, switch shot versions for review within the context of the edit, and remove complicated error prone manual processes. The VFX workflow tool you've been waiting for; minimise everyday complications and maximise your potential with HIERO.
HIERO was built from the ground up to address the challenges of collaborative working on VFX projects, especially those with a quick turnaround, and create a smooth workflow out of the box. HIERO enables collaborative working with NUKE and other editorial, VFX and finishing tools. Both open and scriptable, HIERO can integrate into your pipeline like no other VFX timeline available on the market today.
Save time in conform, maintain an up-to-date timeline, look at shots in context, simplify versioning and review, standardise colour management and remove complicated manual processes — all with HIERO.
---
Features
Conform your timeline with intuitive tools
HIERO conforms EDLs and XMLs into a multi-resolution, multi-track timeline, including audio. Its tools help take the pain out of the conform process, alongside standard editing features.
Make life easy with the sophisticated, session-wide spreadsheet view which can be called upon at any time, a side-by-side comparison of your timeline against an offline and extensive metadata to inspect at any point in the conform process.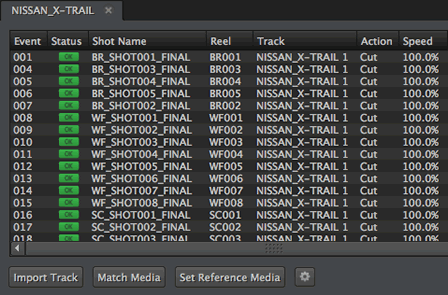 Playback any media that NUKE can read
HIERO shares image reading functionality with NUKE so both applications can read the same formats in the same way. HIERO has no dedicated frame store, it 'soft imports' all your media. Smoothness of playback is hardware dependent, but given fast enough hardware (which you choose), HIERO will playback your footage including synchronized sound.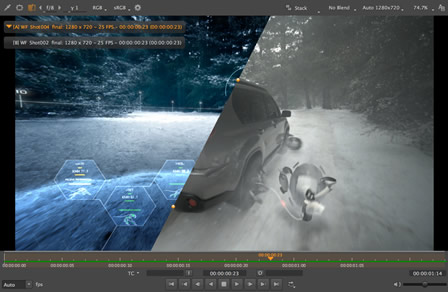 Nissan X Trail courtesy of Unexpected
Send your shots to VFX
Shots in your timeline are exported to VFX artists based on a template you define. Select a master track to guide the break down and export any additional tracks you want from the timeline.
HIERO then follows your timeline and, for each shot, creates sets of folders on disk where it puts the media (with handles). You can tell it where to expect finished shots to be rendered so it can generate a NUKE project all wired up to those inputs and outputs. As part of the export process you can force a transcode of media, a simple copy of it or quick and light symbolic links back to the original files to save export time and disk space.
Reading and writing industry standard image file formats on standard file systems means HIERO can cooperate with any other application you need to get the job done.
Automatically ingest VFX shots
Because your export template tells HIERO where to expect the results from VFX, HIERO can make a new clip per shot pointing to that result. These clips are placed in a new "VFX" track on the timeline. When the results are eventually rendered, and because all shots are soft imported, they immediately appear and can be played back.
Manage your shots
Each clip in HIERO is not a single clip of real media, but rather it can be one of many different clips of real media on disk. We call each of these alternatives "versions". When you place a clip on the timeline, you can quickly and interactively swap between available versions.
HIERO can scan for new iterations of VFX renders and ingest them as different takes on a single clip. This lets you rapidly swap versions in a timeline for review.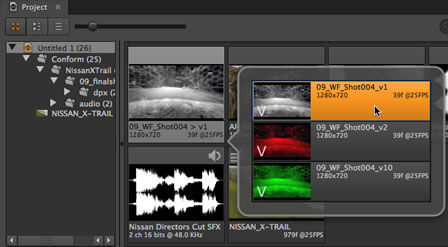 Manage your timelines
Timelines can be check-pointed as your work progresses, making a complete copy labelled with a timestamp and comment. We call these "snapshots" and you can easily see which snapshots are available, restore your timeline to a previous snapshot, or even put two different snapshots into a viewer, to play them back side by side and examine the differences.
Deliver EDLs, XMLs, selects or entire timelines
When VFX is complete and your work is ready for the next stage, you can deliver it in multiple ways. If you need to send work to an in-house finishing system, you could bake out EDLs or XMLs which point to the finished shots on your network. The painful conform has already been done in HIERO, leading to a very simple re-conform in your finishing system.
If you need to send the shots to be finished elsewhere, HIERO can bake-out EDLs or XMLs plus media selects (with handles) from the timeline. Alternatively, you could simply bake out the entire timeline as a single clip in your required delivery format.

Colour manage your footage
Along with MARI and NUKE, HIERO uses OpenColorIO, an open source colour management solution originating from Sony Picture Imageworks. OpenColorIO enables colour transforms and image display to be handled in a consistent manner across multiple graphics applications, including: compositors, image playback tools, renderers, and colour graders. OpenColorIO lets you set up a profile once and then see consistent colours across all compatible applications: NUKE, MARI, HIERO and KATANA, as well as other industry standard products. Ensuring you have the reassurance of consistent colour and results across all applications in your pipeline, OpenColorIO is unlike other colour management solutions and is geared towards post production; suitable for both visual effects work and animated features.
Script HIERO any way you want
By providing a comprehensive set of Python APIs that link deep intoHIERO, you can make it work in the way that best suits you. We provide a rich set of hooks for each stage so you can execute your own Python code at any point in the conform, ingest or export processes.
If that isn't enough, you can even create your own user interface via the PySide library. The included Python APIs also give you direct access to the projects, timelines and clips in HIERO so you can manipulate shots and timelines however you need.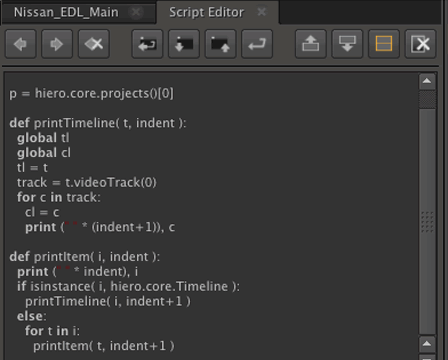 HIERO is a shot management system
Because HIERO has no image processing apart from what is needed to play back a multi-resolution timeline (reformatting, colour management and transitions), it is currently not suited for work as a finishing, grading or visual effects system in it's own right. It is a shot management system for VFX that integrates brilliantly with today's open, collaborative pipelines.



Multi-track editorial timeline
HIERO lets you play back and review sequences containing a mixture of video and audio tracks at variable speeds on a familiar multi-track editorial timeline. You can also create and edit using the standard move, trim, slip, slide, roll and razor timeline editing tools.
Multiple overlay tracks
Quickly and easily create editorial effects requiring overlays—such as insets, product logos and multi-window setups—in HIERO's sequence timeline, with support for adding multiple overlay tracks. Tracks are blended with the underlying content using an 'over' operation in real time.
In-timeline soft effects
Add powerful GPU-accelerated effects right on the timeline, in real time. Whether you're working alone or in client-attended review session, in-timeline soft effects let you quickly and easily get shots set up, experiment with ideas and interactively refine your work. Appearing as a layer above shots on the timeline, soft effects can be applied, stacked, cloned and copied on a per-shot basis, across an entire track or to each separate video track layer.
Annotations
Clearly and easily provide feedback on shots, add artistic direction and communicate your ideas visually to others with annotations. Useful during review sessions or when working as part of a team, annotations let you draw or write directly in the HIERO viewer on a shot-by-shot basis and then share those comments within a NUKE script with the artist working on the shot.
Broad format support 
HIERO shares image and audio reading functionality with NUKE, so all applications can read the same formats in the same way. Supported formats include: R3D, ARRIRAW, EXR, DPX, MOV, MXF, and many more.
Media localisation caching
HIERO supports collaborative working by making it possible to copy remote footage to the artists' local drive, meaning improved playback when working in environments where multiple NUKE artists need to access data over a shared network.
OpenColorIO color management
HIERO's unparalleled color management system lets you match color grading from any particular source throughout a sequence. HIERO includes OpenColorIO, the open source color management library backed by Sony Pictures Imageworks, which is consistent across all our products to standardize color space conversions. 
HIERO also offers extended export functionality that allow the creation of OpenColorIO colour space nodes in exported NUKE scripts to match the custom OpenColorIO configuration.
Audio editing tools
HIERO lets you easily import WAV or AIFF files for preview and for addition to existing timelines—giving context to shot review—and the ability to apply cross-fades, fades-in and fades-out. In addition, you can view an audio track's waveform in the timeline, with separate waveforms displayed for stereo audio files.
Review and playback tools
HIERO gives you the core viewer functionality that you need to compare clips, sequences, tracks and versions in the A/B viewer. This includes stack, horizontal and vertical views, blending modes, colour sample tools, split wipe tool, gamma and gain sliders, and multi-channel support. 
The histogram, waveform and vectorscope allow you to analyze the image information in each shot in detail whilst playing back in context. HIERO also provides fast and intuitive control of frame shuttling directly in the viewer through the mouse, for precision playback and review.
SDI broadcast monitor support
You can accurately check color space and aspect ratios on broadcast content during review on compatible Blackmagic and AJA SDI-Out Hardware.
Stereo playback and monitor support
View and playback stereo images natively in HIERO. We've added support for multi-view Stereo EXRs that lets you playback and review stereo images in real time, and use a stereo monitor for viewing through SDI-out. Stereo display modes include Side by Side, Squeezed Side by Side, Squeezed Above Below, Interlaced, Flicker, and OpenGL Stereo, among others.
Modal editorial tools
All the familiar editorial functionality is available in HIERO, in the form of individual tools including select track, slip & slide, roll & ripple, retime, razor, razor all and join. These provide the complete set of standard and easy-to-use controls straight on the timeline, as well as in HIERO's unique multi-tool.
Source / record 2-up viewer layout & 3-point editing
A familiar editorial layout gives you the ability to insert and overwrite clips from the source view directly into the timeline, through the use of standard 3-point editing techniques.
Editorial keyboard interface
HIERO offers in-depth precision clip or edit selection and nudging, as well as playhead shuttling from timecode and extended JKL functionality, to give you advanced control straight from the keyboard.
Import AAF EDL and FCP XML
Alongside all the standard editing features, HIERO conforms AAFs, EDLs and XMLs into a multi-resolution, multi-track timeline, including audio, helping to take the pain out of the conform process. Editorial effects, including animated nonlinear retiming, transforms and crops, in imported XML files are retained and automatically recreated in HIERO's timeline.
Session-wide spreadsheet view
HIERO makes life easy with its sophisticated, session-wide spreadsheet view. This can be called upon at any time to give a side-by-side comparison of the timeline against an offline, and offers extensive metadata for inspection at any point in the conform process.
Export functionality
HIERO allows you to send shots to VFX quickly and simply, whether you want to bake out EDLs or XMLs plus media selects (with handles) from the timeline, or simply bake out the entire timeline as a single clip in the required delivery format. HIERO lets you force transcode media during the export process by creating a simple copy of it, or by creating quick and light symbolic links back to the original files to save export time and disk space.
Color management is easy with HIERO's extended export options that allow the creation of OpenColorIO colour space nodes in exported NUKE scripts to match the custom OpenColorIO configuration.
Templating
HIERO lets you create and share templated NUKE scripts to improve collaboration across VFX departments. Thanks to its tight integration with NUKE, HIERO removes the risk of problems occurring due to mistyped paths and poorly communicated templates.
Ingest 
HIERO gives you the ability to automatically pass back rendered shots from NUKE and other VFX tools into the full timeline. You can also ingest new media from the file browser, or via drag and drop into the project bin view.
Versioning
HIERO makes it easy to bring in new versions of shots and switch between them in a timeline view, to easily review changes in context. HIERO's tagging abilities allow the addition of notes and let you store arbitrary metadata on shots and clips in the timeline, viewer and project bin view.
Python API & Pyside
Accessible via the script editor or by running scripts on startup, Python API makes HIERO suitable for full integration with asset management and production tracking systems. PySide is also included to allow you to build your own custom user interfaces via Python and the Qt frameworks.
Specifications & Licensing
System Requirements
Hardware Requirements
4 GB of disk space available for caching and temporary files

8 GB of RAM (minimum requirement)

Intel i3 CPU (or equivalent)

Workstation-class graphics card with OpenGL 2.0 driver support, such as NVIDIA Quadro series or ATI FireGL series
Operatings Systems
Mac OS X (10.6.8 or later)


Windows 7 (64 bit)

Linux (RHEL 5.4) 64-bit
Additional Info
Upgrades / Support
Upgrades

Contact RFX sales for pricing
Support
RFX is available for all your support needs.