finalRender 3.5
Description
finalRender is a highly advanced rendering and ray-tracing system with ultra fast global illumination.
finalRender 3.5 is targeted to the mainstream user base, while finalRender 3.5 SE (Studio Edition) is the perfect choice for bigger production houses and advanced users, seeking the maximum in quality and flexibility. 
The Studio Edition (SE) includes many additions and Workflow enhancements specifically tailored to meet the needs of large scale feature film productions and advanced users, seeking the maximum in quality and flexibility. Both products use the same rock solid Hollywood production-proven rendering core; when not using any of the advanced features of R3 SE, the rendering results will be identical between the two versions.
One of the unique new features offered in finalRender R3 SE is a special tool called fR-Scatter, an extremely memory efficient tool for finalRender users with which to create virtually an unlimited amount of objects in a 3D scene without causing any memory issues in 3D Studio Max. This tool represents outstanding value for all finalRender users and is included with the finalRender R3 SE at no additional cost!
Both R3 and SE now offer an Interactive Renderer making it possible for you to make changes to your scene and see those changes updated in a live fully rendered Viewport.
There are two new object types introduced to finalRender R3 for SE, an Ocean Object which makes it very easy to create realistic looking wave motions almost instantaneously when combined with the new Ocean Shader. Extremely convincing results can be achieved in next to no time at all.
finalRender  R3 SE includes all the Material Shaders that used to be available as finalShaders, for the core package, R3. There are also several new material types including the new Ocean Shader and a Volumetric Solid Shader. In the R3 version, many of the existing material types have undergone improvements and enhancements from the previous version. There are also new texture maps, including a Layer Map which allows multiple layers of maps to be overlaid in a Photoshop and in like manner and a Multi/Sub Map that allows easy variations to be created within one material - great for creating lots of variants of very similar geometries, such as crowd scenes.
---
 finalRender R3.5 Standard & SE Features
finalRender offers complete 3ds Max core integration and is known to handle nearly every aspect of 3ds Max as well or better than its built-in tools. 3rd party compatibility has been improved considerably and, thanks to new co-operation initiatives, products like FumeFX 2.1 show dramatic speed improvements when using global illumination with finalRender.
Major Core GI-Engine Changes
In order to re-invent the way to render global illumination faster and smoother than anyone else, cebas made massive and dramatic core changes to finalRender's GI-Engine. Thanks to the robust concept and state-of-the-art modular coding technology used by cebas, the changes made lead to a flexible concept of combining and inter-mixing GI-Engines, which easily multiplies the amount of possibilities. With the release of finalRender 3.5, the user may now choose from any combination of primary and secondary GI-Engines.
New GI-Engine: HarmonicsGI
The key feature of the new HarmonicsGI can be summarized simply as lightning fast and picture perfect. The smoothness of the rendering results and animation stability of the GI renderings have never been better.
 Ultra-High-Speed FumeFX Rendering
Rendering speeds have been increased by one order of magnitude with speed improvements up to 10x achieved for global illumination effects and FumeFX. Other 3d-party effects have also been significantly accelerated (e.g. Hair Farm). Speed gains of up to 5x can be expected for sub-surface scattering effects when using the AQMC GI engine.
DomeLight
finalRender R3 SE was the rendering system of choice for Uncharted Territory when they produced 3D effects for the blockbuster movie "2012." DomeLight proves to be the key lighting method used to create believable and fast global illumination scenery. It also showed great stability in ultra-complex scenes with thousands of animated objects, possessing millions of polygons. In finalRender 3.5, DomeLight is now faster, smoother and better than before, accelerating both the animation and QMC rendering modes.
Physical Camera - a Real World Camera model
finalRender's physical camera with its great real-time preview option is Number One when setting up scenes within 3ds Max. Many enhancements have been added to this module for 3.5: besides an even faster preview, proper gamma correction and real-time vignetting preview have been added.
New interactive Tone Mapper
finalRender 3.5 comes with a new interactive Tone Mapper effect, enabling the user to adjust the High Dynamic Range Images to their liking; in a semi-automatic method, mimicking exactly the methods and tools that an experienced photographer would choose. The addition of this and other tools mentioned, are what makes finalRender 3.5 the most complete and integrated solution for any 3D artist.
Micro Triangle Displacement
The effectiveness of the Micro Triangle Displacement (MTD) code of finalRender has been greatly augmented. In its current release, enhanced performance and multi-core support has been optimized to guarantee maximum speed while maintaining a low memory footprint at render time. A smooth surface is still maintained even with a highly detailed surface structure.
Render Proxies
Render Proxies have been an on-going topic. For some users, they have been a core feature of their future pipeline. Rendering billions of polygons have never been an issue for finalRender. However cebas listened to its users and now offers a render-pipeline tool many users wanted to integrate into their workflow.
Render Proxies are highly optimized binary files holding a fully prepared acceleration tree of a 3D object which exactly matches the native internal scene database description of finalRender. The finalRender proxy files are loaded on demand at render-time and fully replace the "container" scene object, massively reducing the workload in the 3ds Max editor and finalRender, at the same time.
This new feature opens up a new world of possibilities. Complex high-poly-count objects can easily be "outsourced" or referenced by a finalRender proxy file. The file will be loaded into memory at render-time for direct processing by the render-core engine, without cluttering the 3ds Max view port or using any memory in the 3ds Max scene file.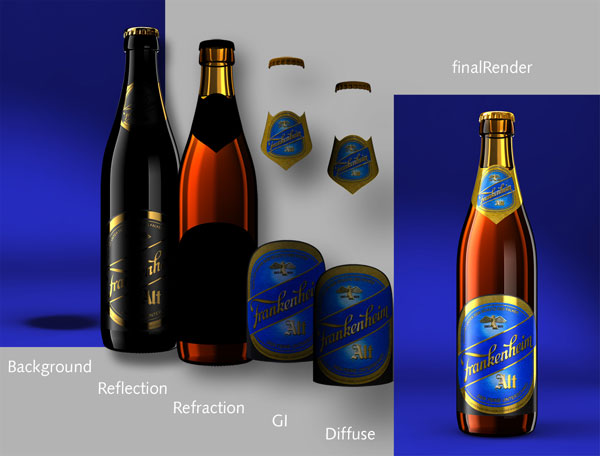 Skin2 Meets CarPaint2
In finalRender 3.5 SE (Studio Edition) fR-Skin 2 is a new layered skin material/shader that resembles the effects of human (or even alien) skin much better than the previous fR-Skin. fR-CarPaint 2, with optional new material, makes the paint on your car model look exactly like a shiny, new car. Also, fR-FastSkin has been upgraded to allow full map control of its features.
finalRender 3.5 and 3.5 SE comparison Table
   
     SE      
 Standard 
Render Core
Linear Workflow
Render Elements AA control
 
finalToon
PyroCluster
 
3D-Stereo Camera
Render Effects
Reinhard Tone Mapper
 
Object Types
fR-Scatter
fR-Proxy
fR-Ocean
 
Area Lights
Cylinder Light
Dome Light
Object Light
Particle Light
Rectangular Light
Materials
fR-2 Sided
fR-Advanced
fR-Architectural
fR-CarPaint
fR-CarPaint2
 
fR-Dirt
fR-Fillet
fR-Glass
fR-Light
fR-Matte/Shadow
Matte/Shadow Self Shadows
 
No Shadows from other Mattes
 
fR-Metal
fR-MultiMtl
fR-Ocean
 
fR-Override
fR-RE Wrapper
 
fR-Skin
fR-Skin2
 
fR-Volume Solid
 
fR-CD
 
fR-DistantFur
 
fR-Electron
 
fR-Elevation
 
fR-Fast Skin
 
fR-Ghost
 
fR-Layer
fR-ThinFilm
 
fR-Velvet
 
fR-Volumetric
fR-Wax
fR-Wet
 
fR-Wire
fR-X-Ray
 
Texture Maps
Bitmap HDR
fR-3D Gradient
 
fR-Ambient Occlusion
fR-Color-Correct
fR-Curvature
 
fR-DirtTex
fR-Layer Map
fR-Mesh Distance
 
fR-Multi/Sub Map
fR-PhysicalSky
fR-Raytrace
fR-Tension
 
Render Elements
fR AA Sampling
 
fR Alpha
fR Ambient
fR Ambient Occlusion
fR Caustics
fR Complete
 
fR Diffuse
fR Dirt
fR Global Illumination
fR Lighting
fR Material
 
fR Normal
fR Object-Material ID (Matte Options)
 
fR Reflection
fR Reflection (Alpha from Reflection switch)  
 
fR Refraction
fR Refraction (Alpha from Refraction switch)  
 
fR Self Illumination
fR Shadows
fR Speculars
fR Sub-Surface Scattering
fR Velocity
fR Vignetting
 
fR Z-Depth
Object Properties:Matte/Shadow
Matte/Shadow Self Shadows
 
No Shadows from other Mattes
 
Main Raytracer Dialog:Motion Blur
TM Sampling
 
Main finalRender Dialog
Render Element Passes
 
---
Version / Release Updates:
finalRender 3.5 SE SP11
Changes in finalRender 3.5 Service Pack 11 include:
CORE: A few issues with caustics producing inaccurate surfaces as a result are now fixed
CORE: Rare incidents of crashing with extruded splines have been addressed
SHADERS: Rare incidents of the velvet shader causing 3ds Max to crash have been addressed
SHADERS: Gradient 3d map rollout is now added
SHADERS: Issues with tension and curvature are also fixed
finalRender 3.5 SP11 is available as a free download to all registered customers.
For more information contact RFX.
---
 Videos
Specifications & Licensing
System Requirements
Final Render is compatible with:
Windows 32 Bit & 64 Bit
Works with:
3ds Max 2012, 2011 and 2010
3ds Max Design 2012, 2011 and 2010
---
Licensing:
All CEBAS product licenses are floating licenses.  CEBAS product downloads include floating license manager. 
If running on a single workstation, you can install the license manager on it alongside the main application.
The installer that is downloaded includes installation options for license manager, Plug-in and render node.
For network licenses you must install the license manager on your license server first then activate your key on the license server.  After that you can install the Plug-in on your 3ds Max workstation, launch 3ds Max and access the plug-in from within. When you first attempt to use the Plug-in you will be prompted to activate or give a license server host name. Once you enter your license server info you will be able to use the plugin.
For render nodes, follow the same steps above for the workstation, after you have successfully accessed the plugin from within 3ds Max on the render node, shutdown 3ds Max and your done.
*Unlimited Network Rendering with Cebas finalRender
Additional Info
Upgrades/Support
Upgrades
Upgrade from R1 to R3
Upgrade from R2 to R3
Support
 RFX is available for all your support needs.
CEBAS offers email support and online Wiki support page
finalRender R3 SE is built upon:
all features and functions of finalRender R3
pyroCluster 3.5 (without mental ray shaders)
finalToon R3
former finalShaders shaders (unlimited network render license)