Pdplayer
Description
Pdplayer™ is a professional image sequence player and viewer for the 3D, CG and VFX industry. It supports most industry standard file formats including EXR, HDR, DPX, CIN, R3D, TGA, SGI, IFF, PIC and VRIMG. Multiple layers can be color-corrected and composed together in real time. Pdplayer is fast and lightweight solution, it starts quickly and flips through frames with ease.
---
Features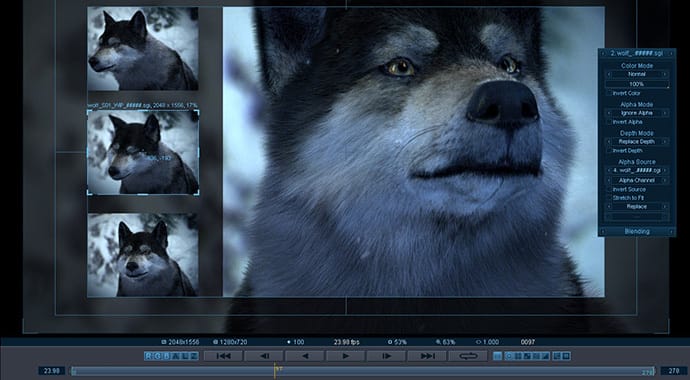 HIGH RESOLUTION PLAYBACK
Work with HD, 2K and 4K resolutions in real-time.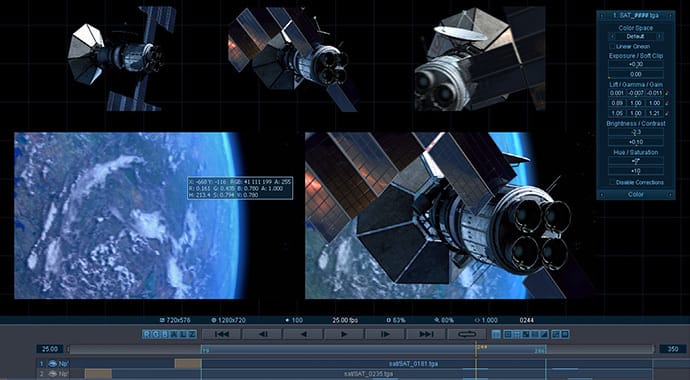 LAYERED SEQUENCES
Create sequences with an unlimited number of layers, arranged on an infinite workspace.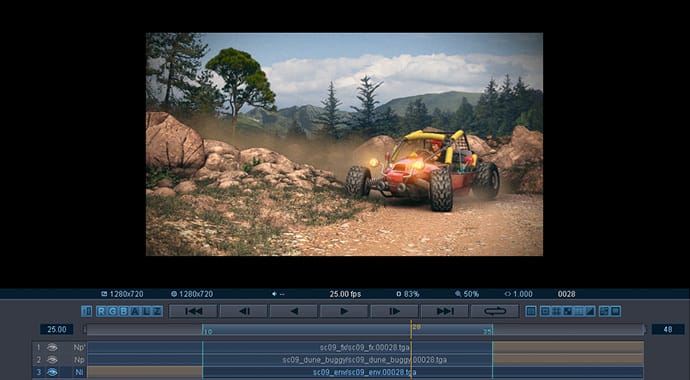 QUICK COMPOSITES
Composite layers quickly and easily in Pdplayer and export to Adobe After Effects or The Foundry's
NUKE for final output.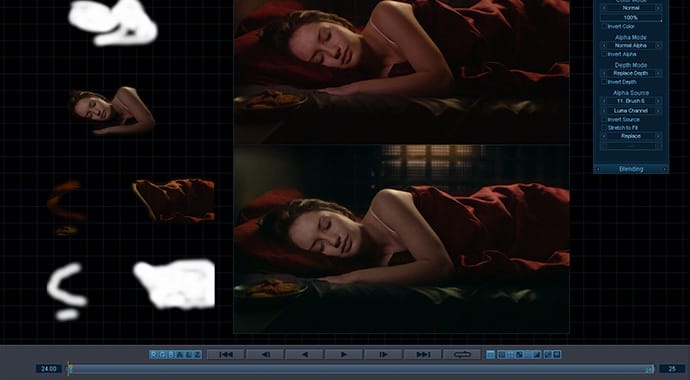 QUICK COLOR CORRECTS
Fine tune exposure, color balance, and layer blending modes quickly and easily. Add an Adjustment Layer to apply corrections to multiple layers.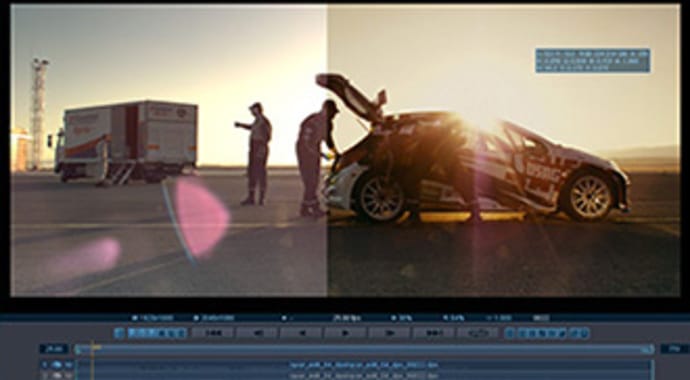 HIGH DYNAMIC RANGE
Preserve super bright image details using industry standard 32-bit file formats – OpenEXR, HDR, RLA/RPF, TIFF, DPX and CIN.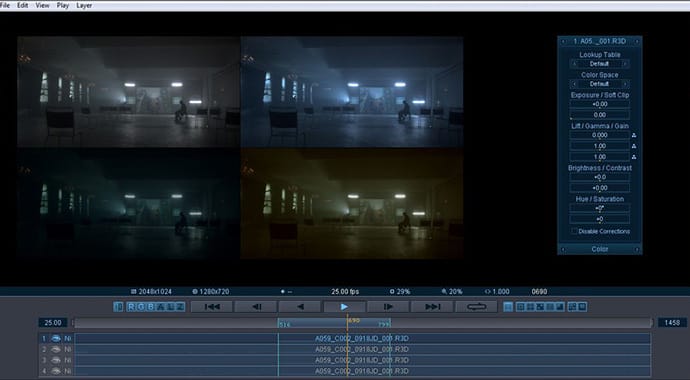 LOOKUP TABLES
Apply 3D LUTs for accurate color playback.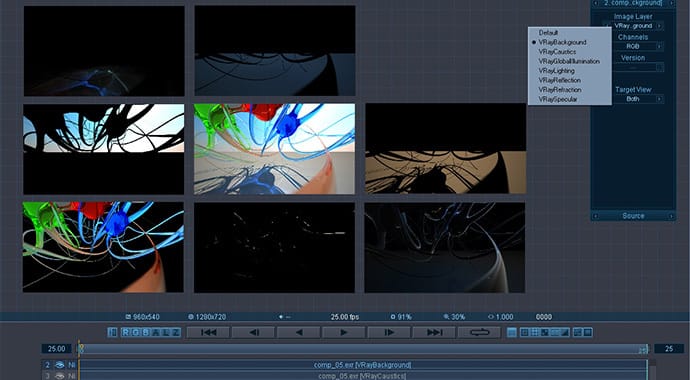 MULTICHANNEL OPENEXRS
Extract and composite layers from multichannel OpenEXR and VRIMG files.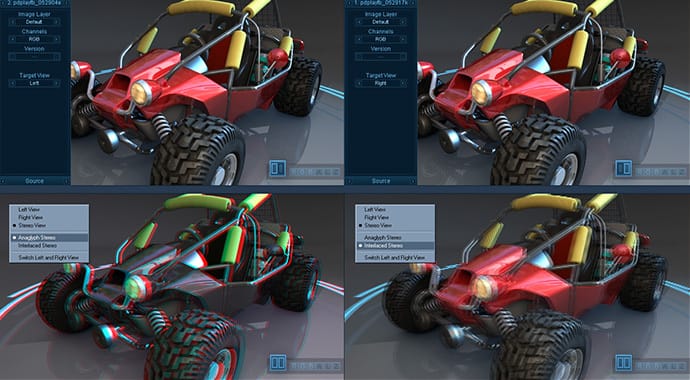 STEREOSCOPIC PLAYBACK
View anaglyph and interlaced stereo sequences. Automatically create stereo compositions from detected footage.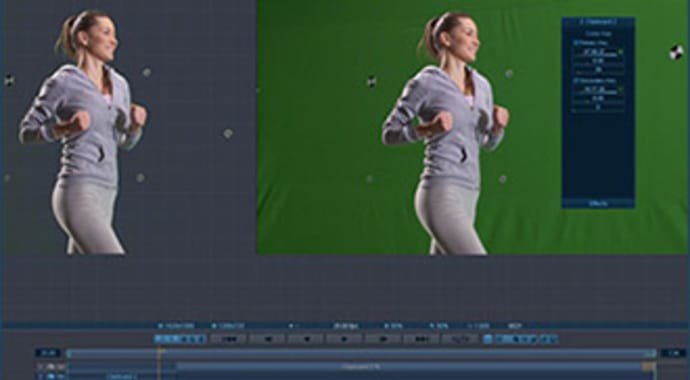 ON-SET KEYING & GRADING
Key, composite and grade live on set and in real time.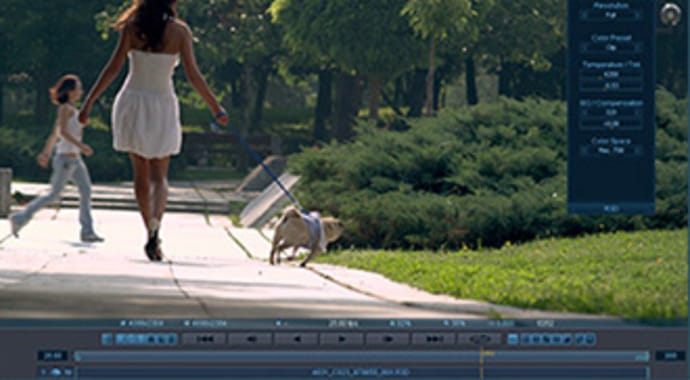 BROADCAST MONITOR OUTPUT
View sequences on external devices like Bluefish444, NewTek VT, and Blackmagic Decklink.



RED® R3D SUPPORT
Work directly with REDCODE RAW R3D files – the proprietary format used by RED digital cinema cameras.



PIPELINE INTEGRATION
Integrate Pdplayer seamlessly into your pipeline with its extensive command-line and scripting support.



COLLABORATION
Markup frames and sequences and share with others working remotely.



OUTPUT
Export layers and compositions as image sequences or Quicktime/ AVI movies.






Viewing Sequences
• Multiple ways to open a sequence: double click, Open With » Pdplayer, drag and drop, copy and paste, File » Add Layer, File » Add Recent
• Industry standard file format support including EXR, HDR, DPX, CIN, TGA, SGI, IFF, PIC, VRIMG and more
• RED R3D support
• Variable framerate playback
• Horizontal and vertical flip
• Depth channel
• Viewing a single channel
• Global zoom, pan and pixel aspect
• Mask and safe area
• Timecode/frame indicator modes
• Locating a frame in Windows Explorer

Stereoscopic Playback
• Option to detect matching footage and automatically build a stereoscopic composition
• Anaglyph, interlaced and checkerboard output
• Support for stereoscopic EXR (SXR) files

Image Layers and Channels
• Support for EXR and VRIMG image layers
• Per-layer image channel support including alpha, luma and depth

Color
• Support for 1D and 3D lookup tables (LUT)
• Exposure and soft clip controls for high dynamic range images
• Color controls including lift, gamma, gain, brightness, contrast, hue and saturation
• Adjustment Layer

Comparing Sequences
• Toggle upper layer (V)
• Difference blend
• Side by side (Ctrl+Shift+Left, Right)
• Layer crop rectangle (can approximate A/B split)

Layers
• Layered sequence playback
• Infinite workspace
• Global and per-layer aspect ratio
• Layer flip, scale, position and crop
• Layer blending modes including normal, add, multiply, screen and difference
• Alpha channel source
• Layer opacity, including fade in and fade out
Caching
• Layer-based cache
• Realtime interactions
• Full, half and quarter cache resolution
• Preloading layers
• Clear cache, Remove layer from cache
• Direct disk playback (Layer » Disable Caching)
• 64 bit (x64) version, not limited to 2 GB or 4 GB

Copy and Paste
• Copy/paste layer, frame, copy from/to explorer
• Clipboard Layer
• Copy/paste color corrections
• Copy layer to clipboard as Nuke script

Saving and Exporting
• Ability to save a composition
• Ability to save a frame, screen, mask
• Export composition or single layer as sequence or AVI/Quicktime movie

Annotation and Collaboration
• Brush Layer
• Brush Sequence Layer
• Text Layer
• E-mail frame/screen
• Built-in HTTP server for remote collaboration
Integration
• Framebuffer Layer
• Extensive command line support
• Export composition as After Effects .jsx, Nuke .nk, Pdplayer .pdpcmd
• Copy layer to clipboard as Nuke script
External Output
• Bluefish444
• Blackmagic Decklink
• NewTek VT
• Firewire/IEEE1394
• Secondary/tertiary display

On-Set Grading and Monitoring
• Live video layer from any DirectShow video input
• Primary and secondary color key
Specifications & Licensing
System Requirements
Operating System
Windows XP SP2
Vista 32 or 64 Bit
Hardware Requirements
There are no requirements on the video card. There are no fixed CPU and RAM requirements; these depend on the specific tasks. For simple PAL or NTSC playback, a 1.5 GHz CPU and 512 Mb or 1 GB RAM may suffice. Working in larger resolutions and with more layers increases the CPU requirements. Increasing the amount of RAM allows one to fit more frames into memory. Increasing the hard disk speed allows one to load sequences faster, or, with a sufficiently fast RAID array, even play back directly from disk (use Layer » Disable Caching for that.)
Because Pdplayer is CPU based playback performance is not compromised on notebooks with lower video RAM.
---
Known Limitations
Limitations common to 32 Bit and 64 Bit versions
Pdplayer cannot create AVI files larger than 2 GB. The classic AVI format files cannot be larger than 2 GB in size. Pdplayer cannot yet create OpenDML format AVI files that do not have this limitation.
Limitations of 32 Bit versions
Pdplayer (as a 32 bit application) cannot access more than 2 GB of memory on a 32 bit version of Windows, and more than 4 GB on a 64 bit version of Windows. In some situations (a machine with 4 GB running a 32 bit version of Windows) this can lead the free memory indicator to report more than 50%, whereas in fact this memory is not available for use by Pdplayer.
Limitations of 64 Bit versions
A 64 bit application is not allowed to load or inter-operate with 32 bit DLLs. As a consequence,
Pdplayer cannot load or create Quicktime movies because Apple has not yet provided a 64 bit version of Quicktime for Windows.
Most AVI codecs do not have a 64 bit version, which makes the support for AVI files extremely limited. Uncompressed AVI files do work, though, subject to the 2 GB limitation above.
RTV files do not work, even if rtvlib2.dll is installed.
The e-mail features only work if the default mail client is 64 bit. Note that Outlook Express is 64 bit under Windows XP64, but Outlook is not, and does not work when invoked from a 64 bit application.
---
Licensing
Pdplayer uses the WIBU licensing system for it's  floating licenses which are tied to a  hardware dongle.  The dongle contains information about the number of available licenses.  You can attach more than one dongle to the same machine to increase the number of available licenses. Before using the dongle, you must install a driver for accessing it.  A single dongle may have multiple versions of Pdplayer, and you can run more than one Pdplayer server on your network.
In order for the licensing to work, the computer must have TCP/IP installed properly. Please note, however, that currently IPv6 is not supported and must be completely removed.
Additional Info
Upgrades / Support
Chaos Group offers the following upgrades and support options:
Upgrades
Upgrades from previous versions.
Support
RFX is available for all your support needs
Chaos Group provides free software support electronically

Support forums and online documentation are also available
---
 Related Products
Pdplayer supports all the industry standard file formats including:
HDR
EXR
CIN
DPX
SGI
TGA
VRIMG
PIC
---
 Educational Licenses
Contact RFX for details
---
 Training / Resources
Go to the Chaos Group Forum for tips, FAQ's and tutorials
---
About ChaosGroup
Chaos Group provides innovative rendering solutions for the media, entertainment, and design industries. For over a decade the flagship rendering software, V-Ray®, has set the standard for speed, quality, reliability and ease of use, and it has become the rendering engine of choice for renowned international studios. The company proudly supports the 3D community through a suite of software solutions: V-Ray® for Autodesk® 3ds Max®, V-Ray® for Autodesk® Maya®, V-Ray® for Autodesk® Softimage®, V-Ray® for Rhino®, V-Ray® for SketchUp®, Phoenix FD™ for Autodesk® 3ds Max®, Phoenix FD™ for Autodesk® Maya®, and Pdplayer™.